Mark Goldberg, M.D., became chair of the Department of Neurology and Neurotherapeutics at UT Southwestern in July of 2010. Before coming to UT Southwestern, he was the founding director of Washington University's Hope Center for Neurological Disorders, a campus-wide initiative promoting research on brain diseases of children and adults. Dr. Goldberg's research focuses on injury of the brain's "white matter," which contains the long "arms" by which nerves reach other areas of the brain. White matter gets its color from the insulating fatty coating that makes nerve cells more efficient. Several diseases and injuries, including stroke, trauma and multiple sclerosis, can damage this coating. He also studies how nerve cells can form new connections to neighboring nerve cells after injury. Dr. Goldberg earned his medical degree from Columbia University after graduating from Harvard University with a bachelor's degree in biology. He completed his neurology residency at Stanford University, where he also was a postdoctoral research fellow.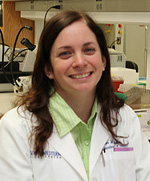 My doctoral studies began in the Department of Molecular and Integrative Physiology at Kansas University, under the mentorship of Dr. Randy Nudo in 1999. For my thesis, I investigated pro-angiogenic responses in remote neurons, functionally interconnected to the infarct, in a non-human primate model of stroke. Following graduation, I conducted a one-year clinical trial of neuromuscular electrical stimulation on the affected arm in individuals with stroke. Our family then moved to St. Louis, MO, where I was a Postdoctoral Scholar in the lab of Dr. Jeff Gidday, Department of Neurosurgery, at Washington University. At Wash U, I studied endogenous neurovascular protection from stroke following brief systemic exposures to hypoxia (i.e. hypoxic preconditioning) in a murine model of transient focal stroke. I accepted an Assistant Professor position in the Department of Neurology at UT Southwestern in June 2010.
Dr. Raman is an Assistant Professor in Pediatrics. Her interest is in brain injury with a focus on the effect of long-term hypoxia on the hippocampus. She is the principal investigator for the project "Mechanism of mTOR mediated decrease in myelination in chronic hypoxia." As an extension of her interest in brain injury, Dr. Raman serves as the principal investigator in a "Randomized clinical trial using 23 percent vs 3 percent hypertonic saline in the management of intracranial hypertension in traumatic brain injury." She is also one of the investigators in the Crystal Charity Ball Collaborative Program for Pediatric Brain injuries in Texas and serves as an active member of the Perot Center for Brain and Nerve Injuries, which co-ordinates various clinical studies.
Erin Shubel
Research Associate

Erin was born in Michigan and raised in Texas. She earned a bachelor's degree in Psychology from the University of Texas at Austin where she worked in several labs. Erin decided to try out the Cognitive Science & Cognitive Psychology Ph.D. program at Indiana University in Bloomington. Two years of that was enough for her, so she headed out west to California and worked in labs at the University of California, San Diego, and Howard Hughes Medical Institute. But the weather was too nice there, so she moved back to Dallas. When she isn't working, Erin mostly sits at home alone with her many cats.