Admissions
We're very glad you're considering UT Southwestern's Master of Prosthetics-Orthotics Program, a comprehensive learning experience that will prepare you for one of health care's most rewarding careers – and we invite you to apply.
Beginning the Application Process
The first step in applying is to complete an online application with Orthotic Prosthetic Centralized Application System (OPCAS). This link will be available from July 15 through December 31.
The application will require:
Three letters of recommendation from instructors, employers, undergraduate advisors, volunteer supervisors, or academic/research mentors, which will be uploaded to OPCAS.
Original transcripts from all of the colleges you've attended.
Your GRE scores. (Scores are acceptable within five years of taking the exam.) Our GRE school code is 6686.
TOEFL scores if you're an international student.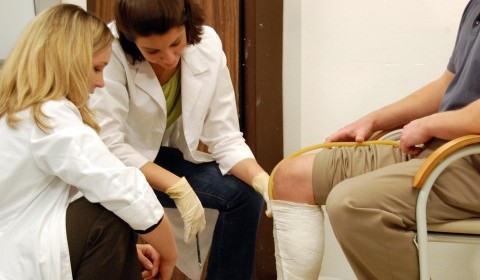 Important Dates
The application deadline is 5 p.m. December 31, but we encourage you to apply early if all of your materials are ready. We're not able to review applications that arrive late or are incomplete, so be sure to apply on time. Our Admissions Committee reviews applications after we receive them. You can view your application status on OPCAS. The new class each year begins its studies in late May.
Interviews
After reviewing applications, the Admissions Committee selects the group of candidates to be interviewed. If you're selected, we'll contact you to arrange a convenient interview time. During your visit, you'll tour the program and meet with faculty and current students
Decisions
After the interviews, our Admissions Committee will make its final decision no later than April 1.
As You Apply
As you prepare your application, your goal is to demonstrate an unshakable work ethic, a strong desire to join the prosthetics-orthotics profession, and the life, work, and academic experience to handle a demanding curriculum. The Admissions Committee takes a broad range of factors into consideration as we select candidates, including:
Quality and quantity of academic preparation (We consider two grade point averages to be very important: a minimum 3.0 GPA for your last 60 hours of undergraduate course work and a minimum 3.0 GPA on all basic science courses.)
Evidence that you have thoroughly researched and understand the profession
Evidence of service and leadership, including awards and honors
Superior interpersonal skills
Enthusiastic letters of reference
A mature, insightful essay
Equal Opportunity
We welcome applications regardless of race, color, national origin, religion, sex, age, veteran status, or disability. Our commitment to equal opportunity includes nondiscrimination on the basis of sexual orientation.