Paramedic Certification Overview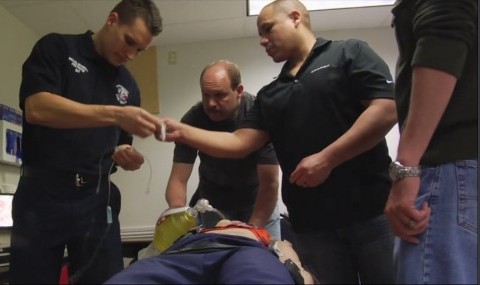 The Emergency Medicine Education Program in the UT Southwestern School of Health Professions offers Paramedic Certification in cooperation with El Centro College, a campus of the Dallas County Community College District. In six and a half months, you'll receive the preparation you need for an emergency medical services position in the pre-hospital environment.
Our Paramedic Certification Program includes classroom instruction, hospital rotations with an emphasis on emergency department experience, and emergency ambulance experience. Your training will prepare you to function in an advanced life-support capacity with invasive skills, such as:
Intravenous initiation
External jugular cannulation
Endotracheal intubation
Drug administration by various routes
Intra-osseous infusions
Electrocardiogram rhythm identification
12-lead ECG
Defibrillation
Cardioversion
Noninvasive cardiac pacing
Chest decompression
To become a paramedic, you must already be certified as an emergency medical technician. If you're ready to take that first step, we also offer a seven-week EMT Certification Program.
Program Moving to El Centro College
This EMS education program will move to El Centro College effective January 2016. Continue to follow the directions on this website to apply for classes and your application will be processed during the transition.
The last classes at UT Southwestern will be as follows:
Paramedic class #135 July 21, 2015–January 15, 2016
EMT class #165 August 6, 2015–September 22, 2015
Anatomy and Physiology class December 28, 2015–January 11, 2016. (This class will precede the January 2016 Paramedic class at El Centro College.)
Below are the tentative 2016 classes that will be held at El Centro College
Anatomy and Physiology Courses
A & P: December 28, 2015 – January 11, 2016 (class held at UT Southwestern current facility)
A & P: June 27, 2016 - July 11, 2016 (classes at Paramount Center, Market Street)
PARAMEDIC Courses
Paramedic # 136 January 19, 2016 – July 14, 2016 (classes held at Paramount Center, West End on Market Street)
Paramedic # 137 July 19, 2016 – January , 2017 (classes at Paramount Center, Market Street)
About Paramedics
Paramedics are the highest level of emergency medical services providers. Paramedics perform a variety of medical procedures, including fluid resuscitation, pharmaceutical administration, cardiac monitoring, and other advanced procedures and assessments. They work in conjunction with EMTs, nurses, physicians, and other members of the health care team.
Career options are available in urban and rural settings, primarily in conjunction with fire departments, private ambulances, or other rescue services. When operating in the pre-hospital environment, paramedics act in accordance with protocols and procedures set by their system's physician medical director. For more details about what paramedics do, read the functional job analysis.
Paramedics Today
According to the U.S. Bureau of Labor Statistics, paramedics and EMTs and held about 210,700 jobs in 2008. Most career paramedics and EMTs work in metropolitan areas. Volunteer paramedics and EMTs are more common in small cities, towns, and rural areas. These individuals volunteer for fire departments, emergency medical services, or hospitals, and may respond to only a few calls per month.
Paid paramedics and EMTs were employed in a number of industries. About 45 percent worked as employees of ambulance services. About 29 percent worked in local government. Another 20 percent worked in hospitals.
Outlook for Tomorrow
Employment of paramedics and EMTs is expected to grow 9 percent between 2008 and 2018, about as fast as the average for all occupations. Growth is due in large part to increasing call volume due to our aging population.