Meeting Recaps
2012-2013
Oct. 29, 2012 - Eddie Mercado, Pharm.D., Clinical Pharmacist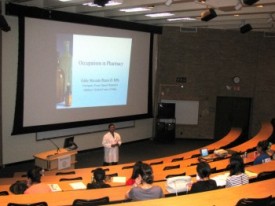 During our second meeting, we had Dr. Eddie Mercado present about the strenuous process one must go through to receive their Doctor of Pharmacy (Pharm.D.) degree. He went into further detail about the wide range of work for a pharmacist, from pediatric to nuclear pharmacy and back to his field, which is clinical pharmacy.
Dr. Mercado explained the five essentials to doing well as a pharmacist:
Deliver medicine safely and in the correct dosage
Educate the patient on what is going to be done and how they should respond whether anything occurs
Monitor drug therapy
Be a team player and work with other health care providers to better serve the patient
Research and clinical studies allowing for you to make decisions from prior experiences
Along with these five gems of knowledge, Dr. Mercado reminded all of the Explorers that teamwork is key in all parts of medicine and that life is good, enjoy it.
Sept. 24, 2012 - Christopher Spaeth, Ph.D., Postdoctoral Researcher II, Neuroscience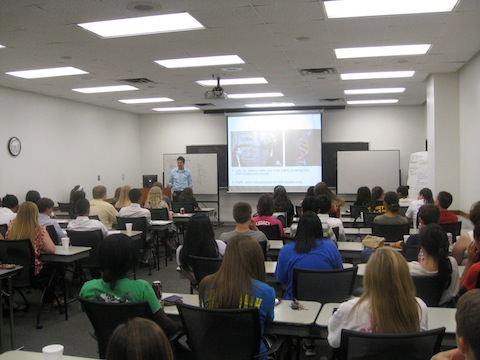 We had our biggest turnout — 63 students — for our first meeting of the academic year. The Exploring students had the pleasure of listening to the guest speaker, Dr. Christopher Spaeth, who talked about his career path and his current research in neuroscience.
Dr. Spaeth studies how an unusual protein, Mical, directly disassembles the actin cytoskeleton and supports formation of normal axon growth and guidance, dendrite arborization, and synaptic connectivity. This is particularly important for studying the neuronal effects of drug abuse, since addictive drugs alter normal connections. There was a lot of excitement as students asked many questions following the presentation.
Afterward, students spent time getting to know each other through fun ice-breaker games.