Meeting Recaps
2013-2014
November 18, 2013 – Isabel Teo, Clinical Nutrition Student; and Peter Harris, Safety Specialist III.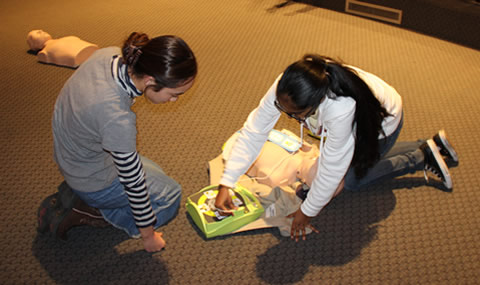 There were two presentations during our November 18 meeting. During the first half, the Explorers had the priviledge of listening to Isabel Teo, Clinical Nutrition Student.

They learned about sports/fitness nutrition and different labels that one might find on food packaging. Some of the labels are misleading, such as foods labeled fat-free. Fat free does not necessarily equal calorie-free, and as a result, many fat-free foods contain almost he same amount of calories. The members then received a specific food labels to inspect with one another and present to the group.

As a final activity, everyone was presented with a recipe to make a healthy sports drink at home. The second half of the meeting was led by Peter Harris, Safety Specialist III., on CPR and AED use. After a short presentation on the procedures, students were allowed to test out the newly learned skills on CPR mannequins. It was another successful meeting learning more about different health and science careers.
October 21, 2013 – Megan Farley, M.S., C.G.C., Genetic Counselor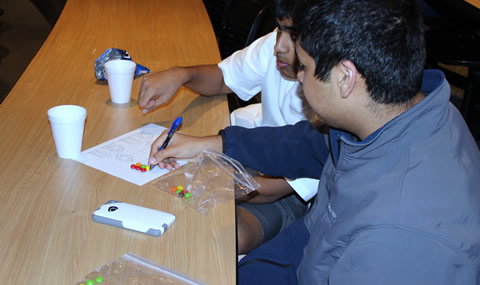 Our October 21 meeting was led by genetic counselor Megan Farley. She focused on:
How genetic counselors help patients identify risks of developing certain genetic disorders
Give advice on treatment options
The risks to future offspring
Ms. Farley also covered different genetic disorder markers and how her job is two-fold. The first was to tell the patients how to cope – this can include giving them information about treatments. The other part is telling them about other miscues or things that looked to be of future concern in both theirs and their child's DNA.

After her enlightening presentation, she led the Explorers on a hands-on genetic mutations activity with Pedigree Charts and Skittles.™
September 23, 2013 – Virginia Rady, R.N., M.S.N., ANP-C, Nurse Practitioner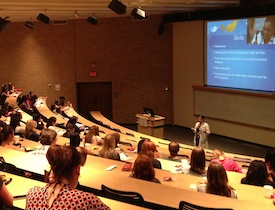 During our Open House on September 23, we had our biggest group: 80 students. The presentation was by Virginia Ann Rady, a nurse practitioner. She provided us with some history of nurse practitioners, which came about in the 1960s as a result of the shortage of doctors in primary care. Nurse practitioners can make diagnoses and treatment plans, prescribe medications, and order referrals. Their main job is to educate the patient on what exactly is happening to them and why. Currently to become a nurse practitioner, one must get a bachelor's degree, become a registered nurse, receive a master's, and gain a state nurse practitioner's license. In the future, more schooling will be required. Nurse practitioners are steadily becoming a more recognized and sought-after resource in a world with too few doctors.
2012-2013
October 29, 2012 – Eddie Mercado, Pharm.D., Clinical Pharmacist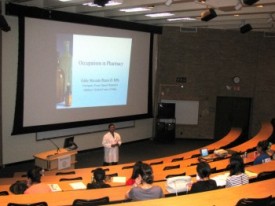 During our second meeting, we had Dr. Eddie Mercado present about the strenuous process one must go through to receive a Doctor of Pharmacy (Pharm.D.) degree. He went into further detail about the wide range of work for a pharmacist, from pediatric to nuclear pharmacy and back to his field, which is clinical pharmacy.
Dr. Mercado explained the five essentials to doing well as a pharmacist:
Deliver medicine safely and in the correct dosage
Educate the patient on what is going to be done and how they should respond if anything occurs
Monitor drug therapy
Be a team player and work with other health care providers to better serve the patient
Research and clinical studies allowing for you to make decisions based on prior experiences
Along with these five gems of knowledge, Dr. Mercado reminded all of the Explorers that teamwork is key in all parts of medicine and that life is good, enjoy it.
September 24, 2012 – Christopher Spaeth, Ph.D., Postdoctoral Researcher II, Neuroscience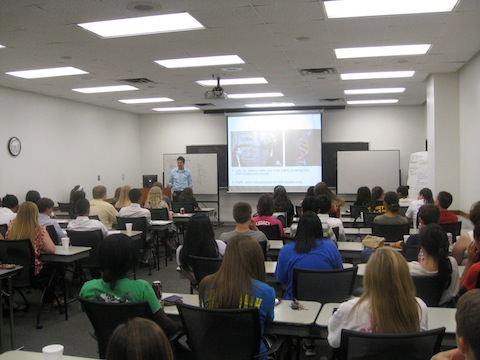 We had our biggest turnout – 63 students – for our first meeting of the academic year. The Exploring students had the pleasure of listening to the guest speaker, Dr. Christopher Spaeth, who talked about his career path and his current research in neuroscience.
Dr. Spaeth studies how an unusual protein, Mical, directly disassembles the actin cytoskeleton and supports formation of normal axon growth and guidance, dendrite arborization, and synaptic connectivity. This is particularly important for studying the neuronal effects of drug abuse, since addictive drugs alter normal connections. There was a lot of excitement as students asked many questions following the presentation.
Afterward, students spent time getting to know each other through fun ice-breaker games.