Meeting Recaps 2011–2012
May 21, 2012 - CPR Certification Class with Jarrod Gilstrap, Firefighter with Dallas Fire Rescue, Nurse, and AHA Instructor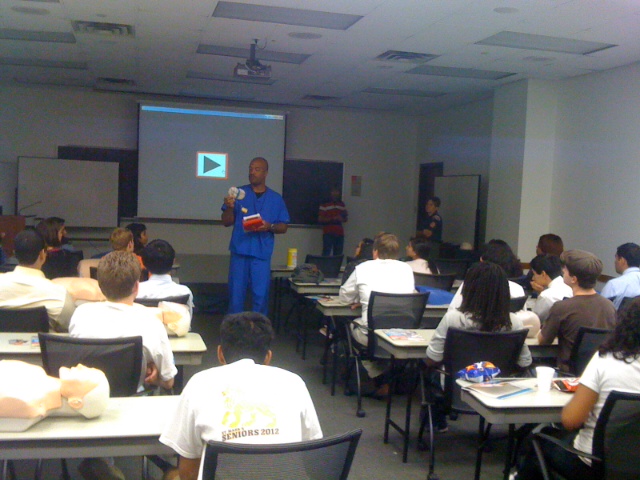 The students of the Exploring program had an exciting yet serious learning experience that they will use for the rest of their lives. There was a packed house at this meeting and nearly 30 Exploring members were CPR certified by the end of it. Thanks to the American Heart Association instructor Jarrod Gilstrap and the other volunteers, who helped to make this meeting a success. We appreciate your willingness to make a difference in the Explorers' lives.
April 23, 2012 - Shawn McClintock, Ph.D., Assistant Professor, Psychiatry; Anisha Turner, UT Southwestern Medical Student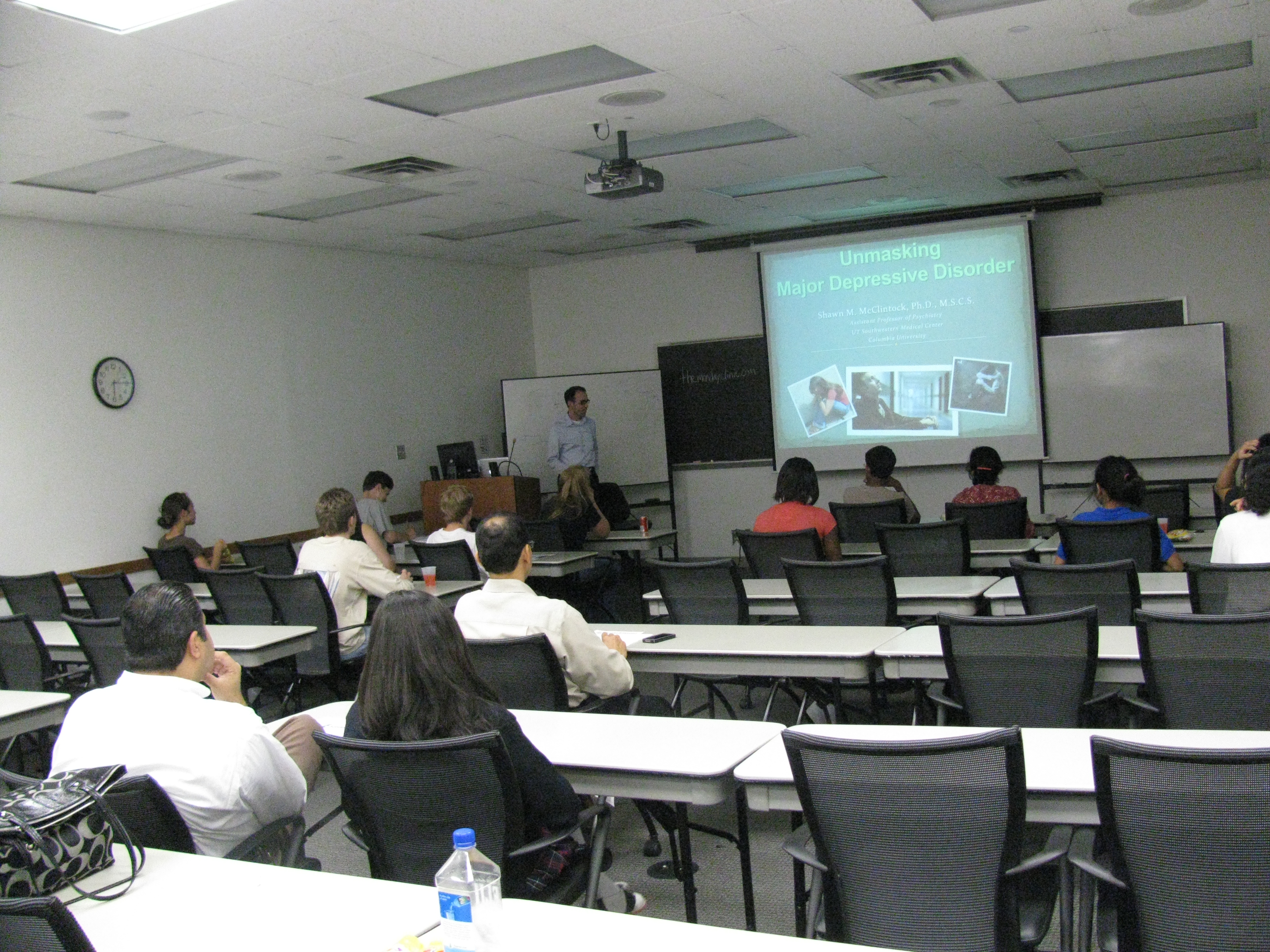 The Exploring Post had an important and fun meeting. The students had the great privilege of listening to Shawn McClintock, Ph.D., and Ms. Anisha Turner.
Dr. McClintock is an Assistant Professor of Psychiatry and studies major depression disorder (M.D.D). He clarified that M.D.D is not an illness that people choose to have. Dr. McClintock also explained the different theories about why people have depression. In addition, Dr. McClintock presented a variety of sources that indicate an increase in this disease. In fact, by 2030, it has been determined that M.D.D will be the world's leading disease. Dr. McClintock also spoke on current therapies that have tremendously changed and improved the lives of M.D.D patients. Fortunately, with continuing research from people such as Dr. McClintock, there is hope of having true understanding of this disease.
Ms. Anisha Turner, currently a medical student at UT Southwestern, presented her own personal experience in choosing medicine as a career. Ms. Turner also lectured on two areas of medicine of her interest: pediatrics and geriatrics. To further help the Exploring Post students, Ms. Turner had the students do some fun and enlightening activities.
Thanks to Dr. McClintock and Ms. Turner.
Mar. 26, 2012 - Sarah Oltmann, M.D., Assistant Professor, Surgery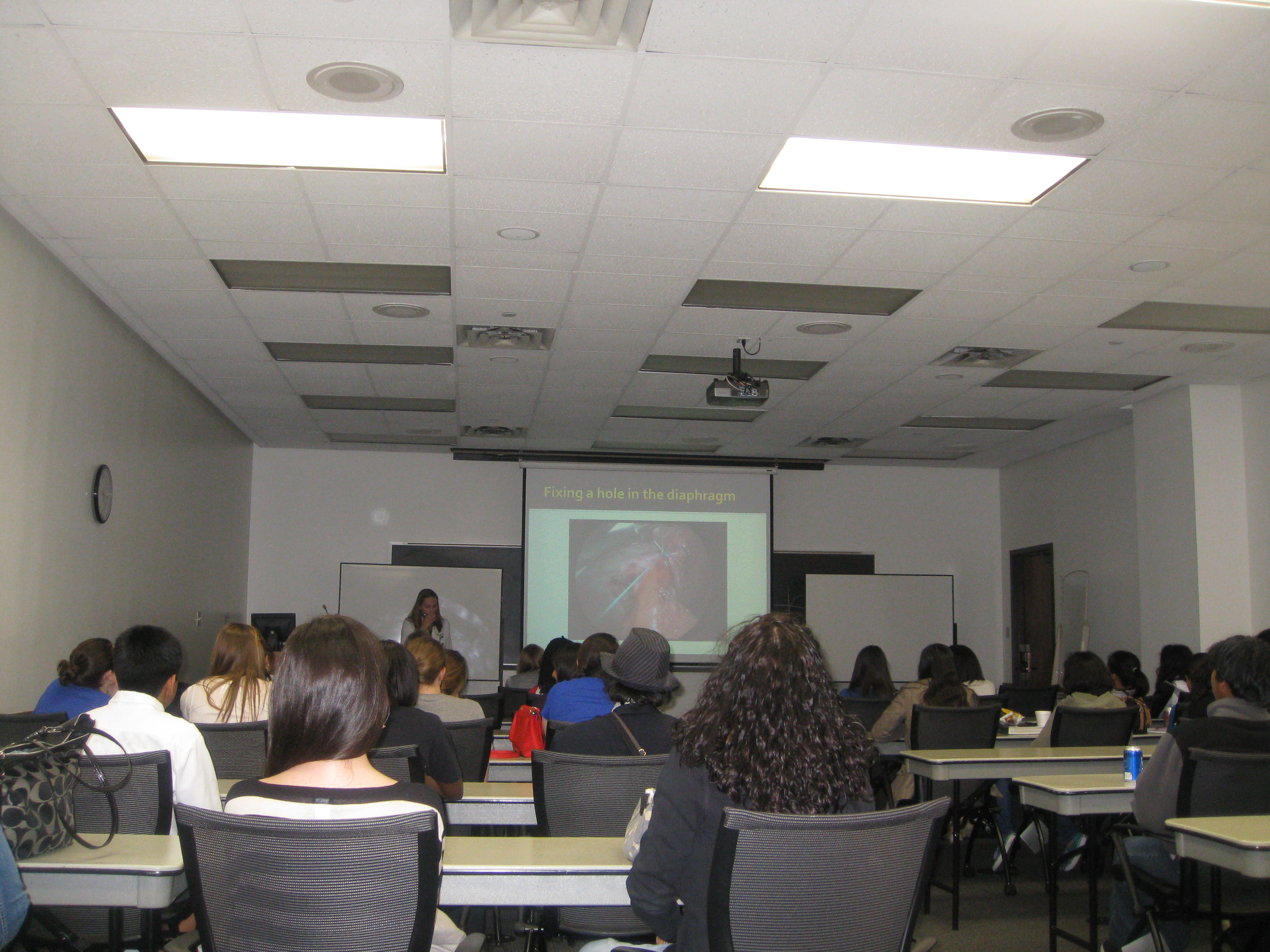 The Exploring Post program had another fascinating meeting regarding the cutting-edge field of surgery. Sarah Oltmann, M.D., Assistant Professor of Surgery, gave the Exploring students a special opportunity to understand the current environments and specialties of the surgical arena. In Dr. Oltmann's presentation "To Cut is to Cure," she explained all surgeons need to have effective teamwork skills and a love of learning. In addition, Dr. Oltmann spoke of the importance of a core belief in yourself and a discipline of staying positive and motivated. Dr. Oltmann presented photos of real surgical operations that brought home the vitality of our modern surgeons. Overall, the students had a very interesting opportunity to meet a surgeon and see real photos of surgery. Thanks to Dr. Oltmann.
Feb. 27, 2012 - Sherwood Brown, M.D., Ph.D., Professor, Psychiatry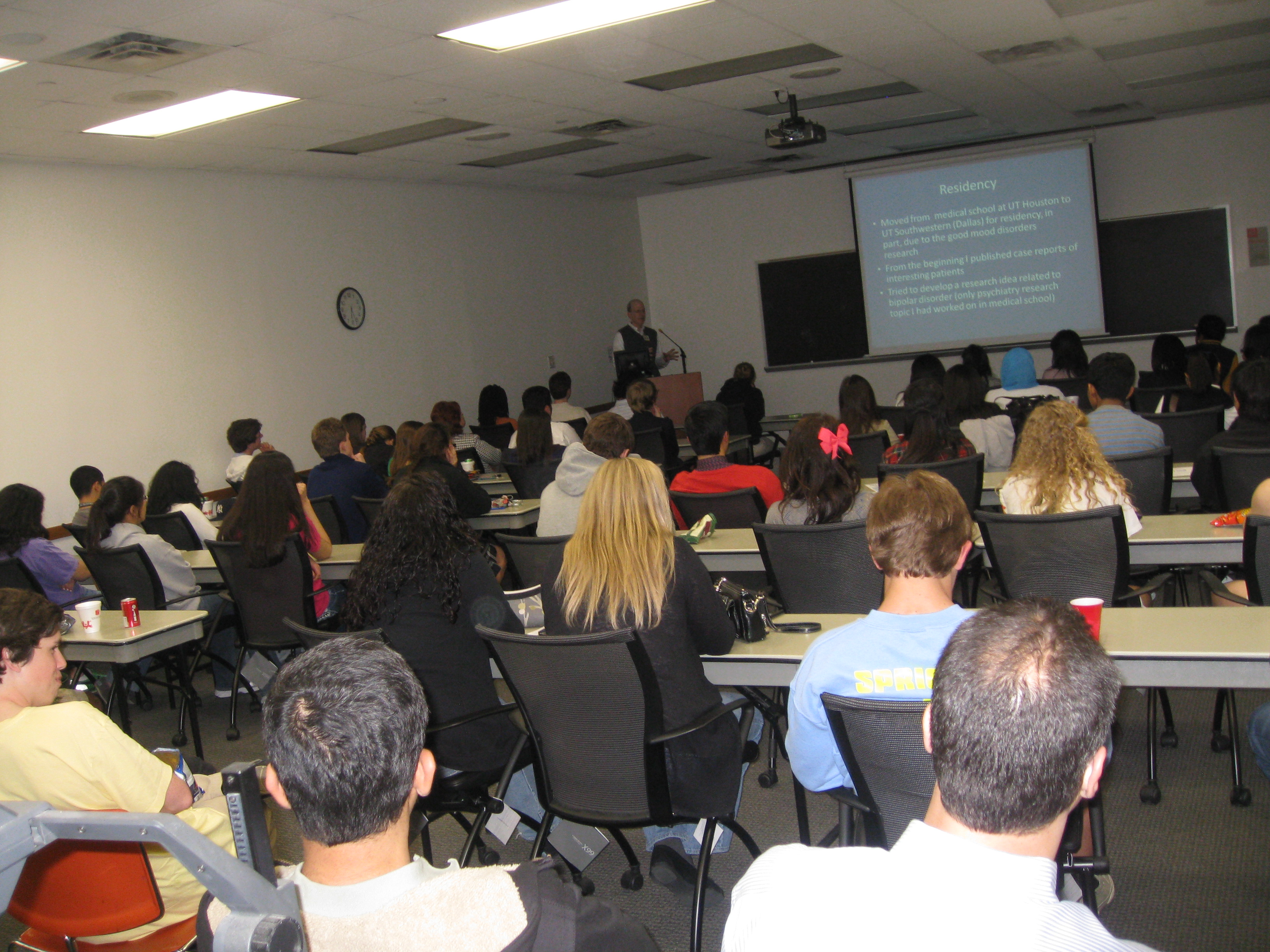 At the Exploring Post meeting on January 27, Dr. Sherwood Brown, M.D., Ph.D., Professor of Psychiatry, explained and discussed his professional background as a psychiatrist. Dr. Brown described the role of psychiatric medicine in the past and the role it plays today. In addition, Dr. Brown expressed how he became involved in this field of study and how student can enter the same arena. The students were fascinated by his presentation as noted by the many questions. All will agree that Dr. Brown's discussion was interesting, motivating and encouraging to students interested in health and science careers.
Jan. 23, 2012 - Katy Lyles, Anatomy & Physiology Teacher, RHS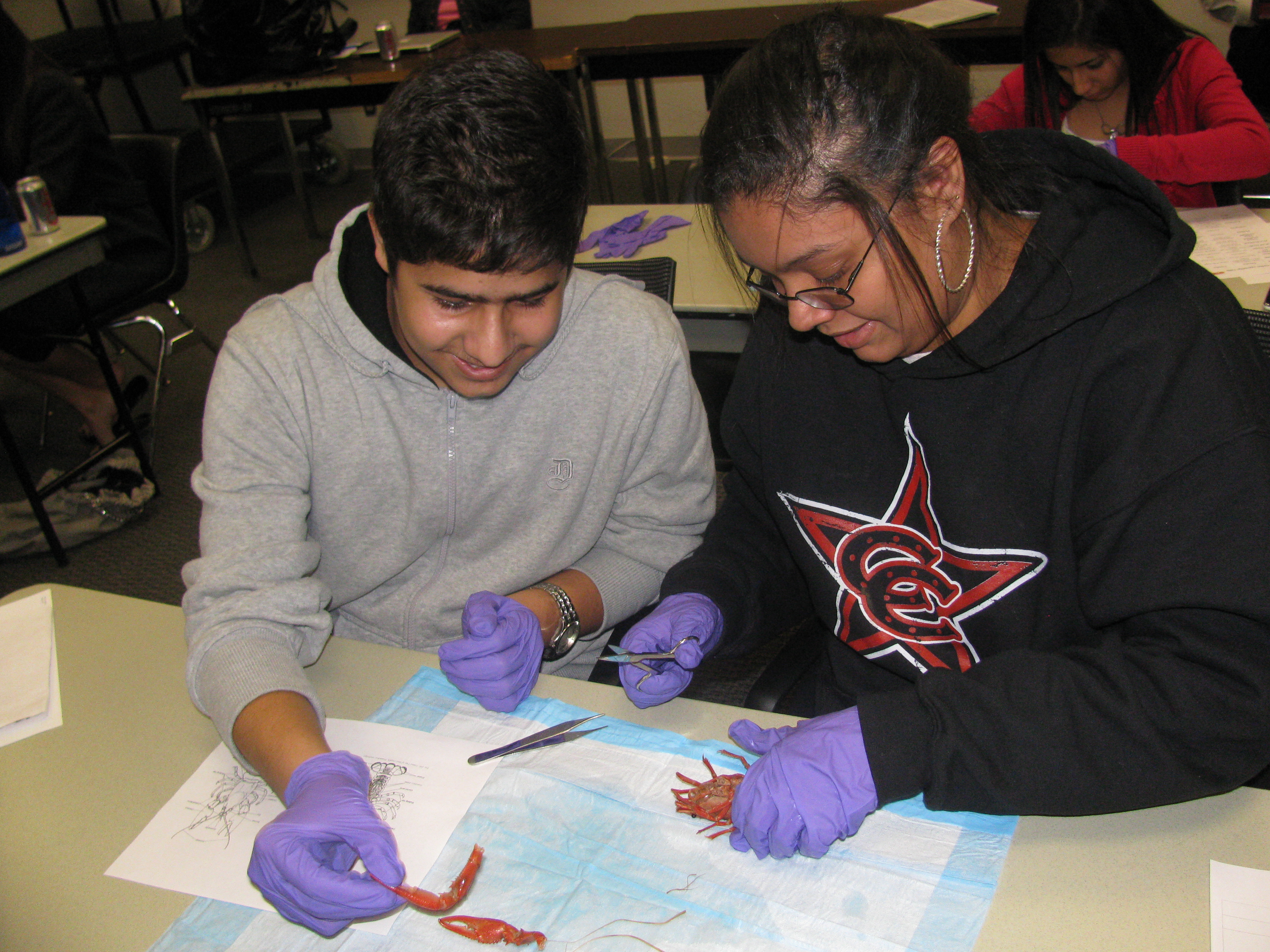 At the January Exploring Post meeting, Ms. Katy Lyles, M.S., an anatomy and physiology/Pre-AP biology teacher at Richardson High School, lead the meeting by discussing anatomy and physiology. However, what made the meeting more interesting was the dissection of a real crawfish. With the guidance of Ms. Lyles, the Exploring Post students, and some parents, learned about the anatomy and physiology of the crawfish. This was truly an exciting and enjoyable meeting. Thanks to Ms. Lyles.
Dec. 12, 2011 - Swalpa Udit, MSTP Student, Obesity and the Brain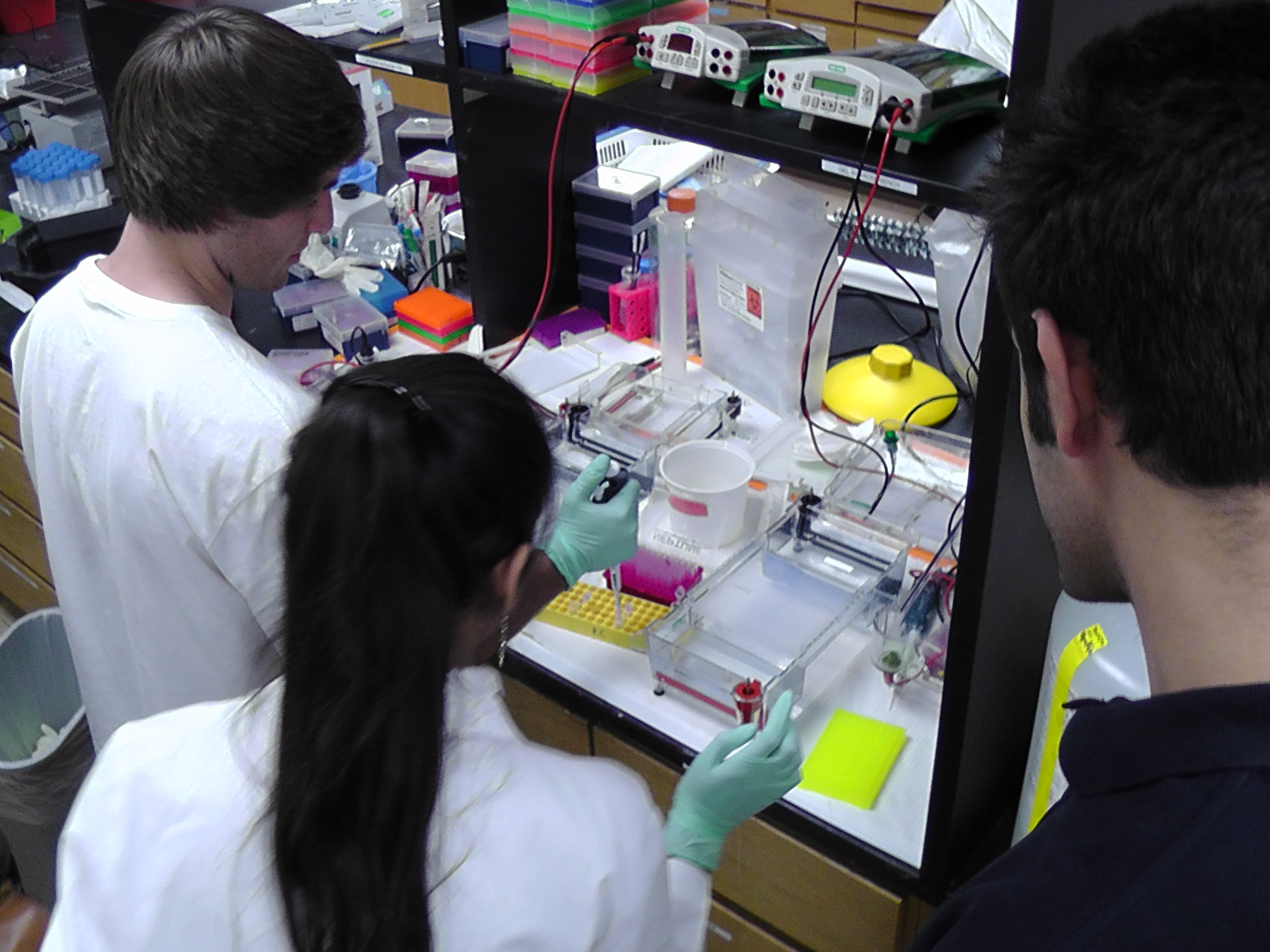 During the December Health and Science Exploring, Swalpa Udit, a MSTP student, explained the connections between obesity and the brain. This subject brought the Explorers into numerous labs, where researchers study both DNA and neurons. In fact, the student were allowed to conduct experiments with DNA (gel electrophoresis) under the supervision of Ms. Udit! The students of the Health and Science Exploring learned about how obesity affects the brain and were given a sneak peek into the field of research. Thank you, Ms. Udit.
Nov. 14, 2011 - Darienne Hall, Allied Health Student, Clinical Nutrition.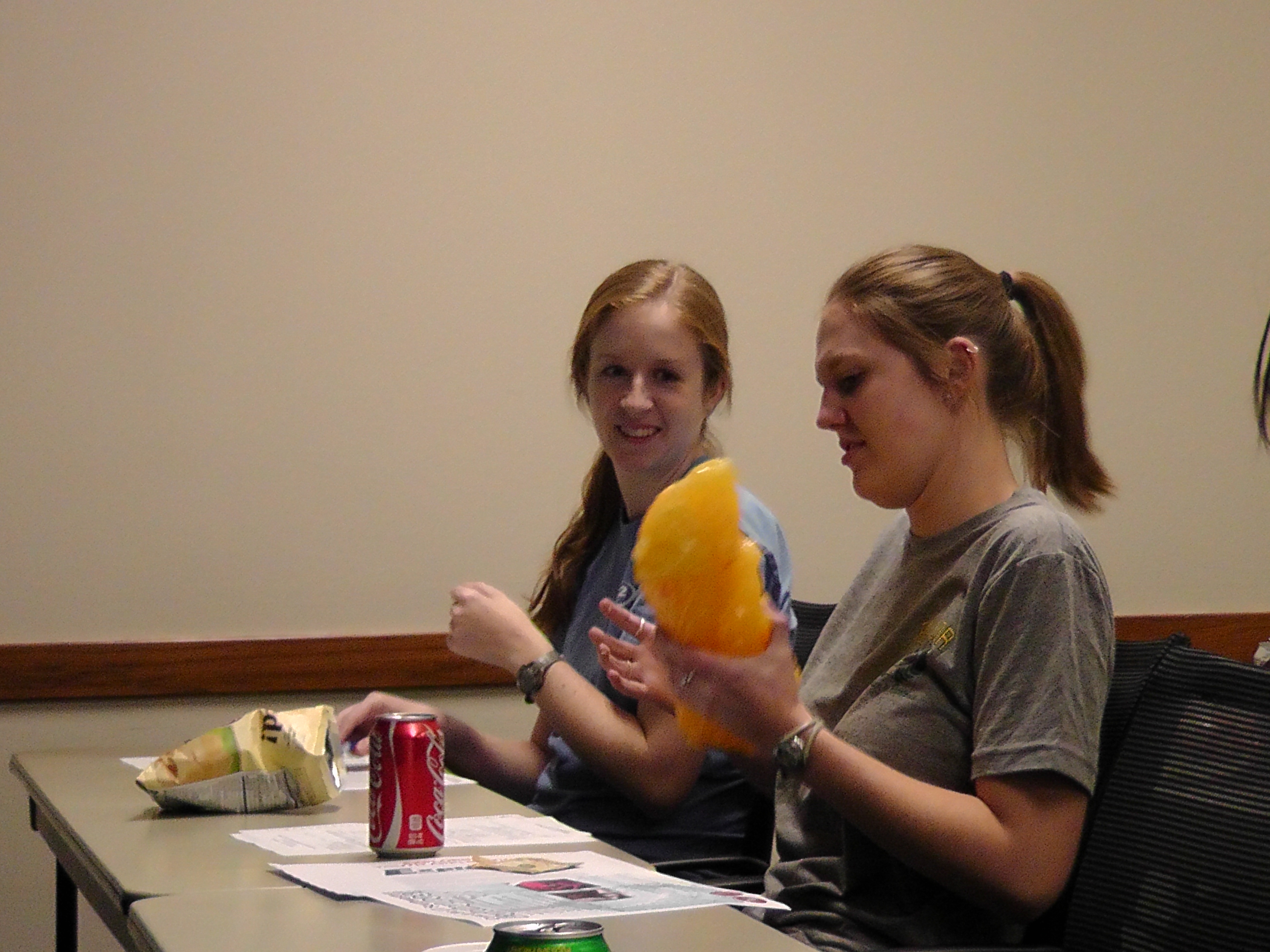 During the November Health and Science Exploring Post meeting, a great and informative meeting was presented by Darienne Hall, an allied health student. She discusses issues relating to an overweight and underweight population. This evening was primarily focused on understanding the obesity epidemic that has occurred in the past 40 years. Ms. Hall had students compete to answer different questions regarding obesity. In addition, Ms. Hall demonstrated the significance of 5 lbs. of fat with a waxy, lemon jelly of modeled fat. Ms. Hall also demonstrated how to calculate BMI. Linda Michalsky, Ph.D., an assistant professor of Clinical Nutrition, gave the Explorer students a special opportunity to use a machine that analyzes total body composition. The Explorers had both an interesting and fun meeting. Thank you, Darienne Hall and Dr. Michalsky.
Oct. 24, 2011 - Debby Noble, Clinical Laboratory Manager, Suture Clinic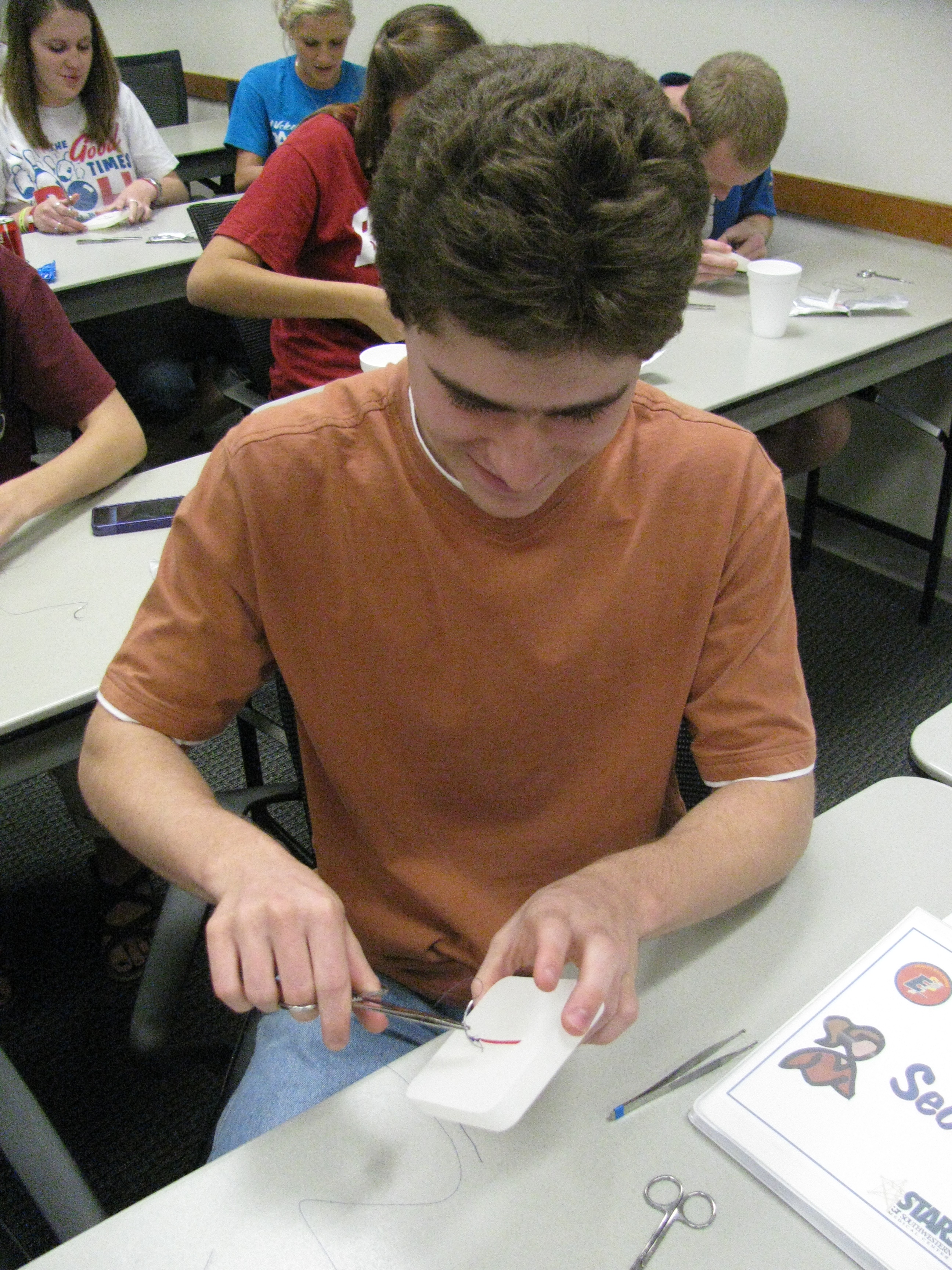 This evening, approximately 40 students came to the October Exploring Post meeting to learn how to suture. Debby Noble, Clinical Laboratory Manager of the Suture Clinic, was the instructor. It gave all of the students a new appreciation of physicians, nurse practitioners, and physician assistants. The evening began by watching a video on different types of suturing techniques. Then, the students were given a needle holder, forceps, and scissors to see test their skills. The students all agreed that they need a lot of practice to perfect the techniques. This was a very interesting opportunity. Thanks, Ms. Noble.
Sept. 26, 2011 - Susan Miller, Radiographic Technologist, Interventional Neuroradiology Procedures; Jamie Rogers, Student Research Assistant, Biochemistry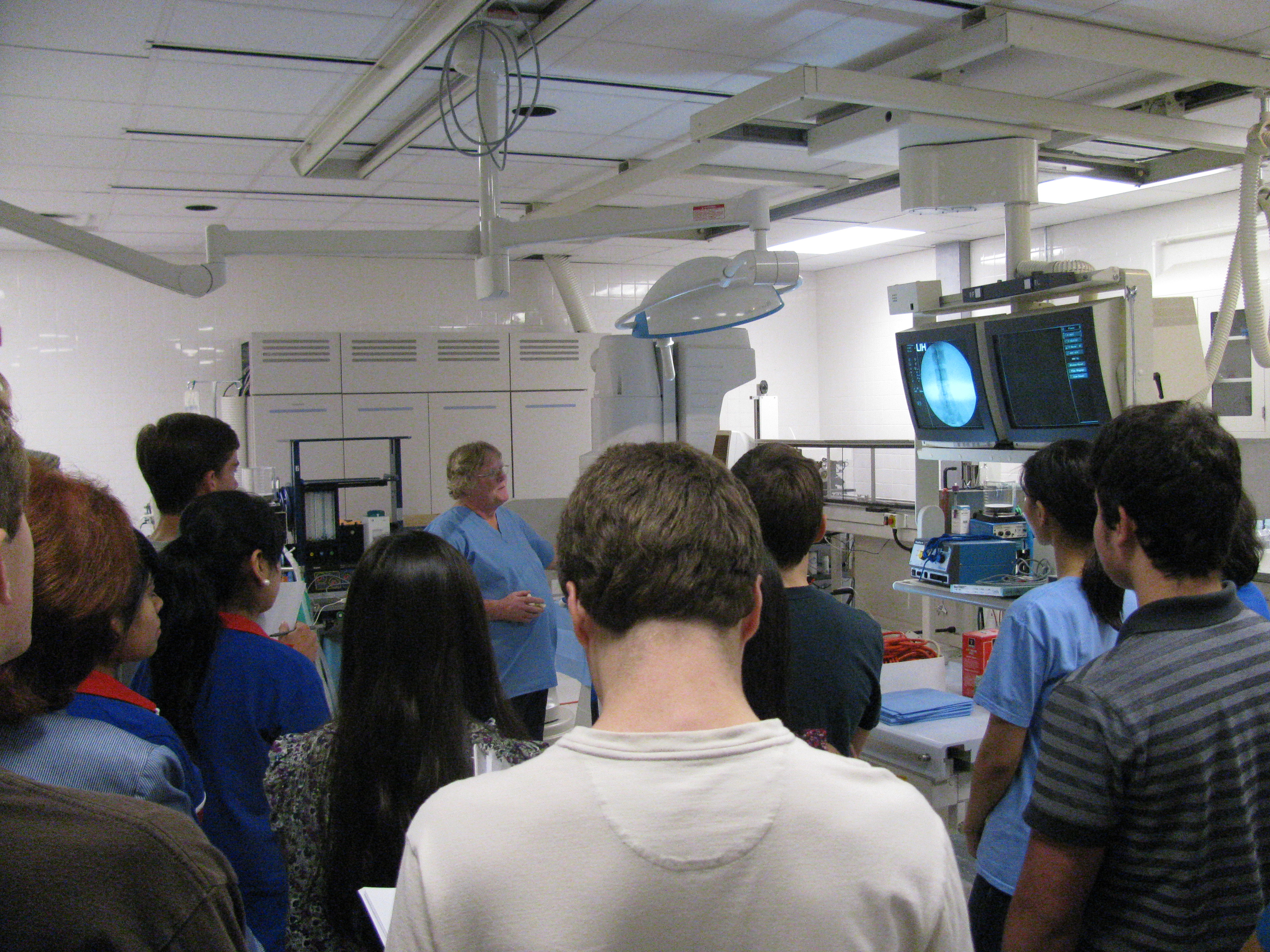 On September 26, 2011, the Health and Science Exploring Program started their first meeting with a very interesting visit with Susan Miller. Ms. Miller, a Radiographic Technologist, welcomed the explorer students with an hour of enthusiasm. Ms. Miller began by introducing the students to a $3 million X-ray machine. Ms. Miller explained and demonstrated different tools, such as a pediatric bronchoscope, that are used in conjunction with the X-ray machine. Additionally, under the supervision of Ms. Miller, students were allowed to use a human simulator that displayed computer-generated X-ray catheterization of major blood vessels. They also gave the Explorers a rare sneak peek into a design and experimental laboratory as well as a laboratory of neuroscience studies. Ms. Miller expressed her passion and commitment in this interesting field of mobility medicine.
In addition, three graduate students, who are studying organic chemistry, presented experiments for the Explorers to enjoy. Ever seen a $1 bill that's on fire but doesn't burn? Or white mucky liquid that changes into a solid with a single punch? All three chemists performed these tricks and allowed the students to participate. All three conveyed the need for higher education and shared their experience in chemistry as well as their future career plans. Thus, the Health and Science Exploring Members undoubtedly had an interesting and fun night at UT Southwestern Medical Center.