Summer Enrichment Program
A diverse medical school class benefits all students by promoting a richer classroom learning environment and by better preparing students for an increasingly diverse workplace and society. To promote diversity among our student body, UT Southwestern offers the Summer Enrichment Program (SEP), a six-week program for new, first-year medical students.
The program promotes participants':
Academic adjustment to the first year of medical school at UT Southwestern
Social adjustment to the UT Southwestern campus community
Environmental adjustment to the UT Southwestern campus setting and Dallas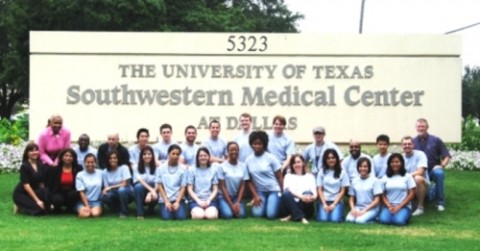 Participant Selection
Participation is by invitation only. Students are selected by a committee who consider:
Scores on the Medical College Admissions Test
Cumulative grade point average and/or science grade point average
Socioeconomic status
Rigor of undergraduate college curriculum
Years out of school prior to medical school application
English as a second language
Other circumstances, e.g., learning and/or medical disability
Program Components
Curriculum
Select Topics in Human Anatomy
Select Topics in Medical Biochemistry
Embryology
Select Topics in Membrane and Cardiovascular Physiology
Seminars

Learning Assessment
Learning Skills
Financial Management
Stress Management
Library Orientation
Individual Conferences
Receptions and Luncheons
Sporting Events
Student Planned Activities
Extra-Curricular
Learn more about the curriculum in the SEP Curriculum Summary.
Find out about a typical day for an SEP student.
Review a sample SEP calendar.
Requirements
Participant requirements include, but are not limited to:
Doing all homework assignments in a timely manner
Attending all classes, labs, mandatory tutorial sessions and sponsored social activities
Reporting to all curricular and extra-curricular activities in a punctual manner
Taking all course-related quizzes and tests
Participating in the evaluation of all program components/activities
Not being concurrently enrolled in any other summer program or course(s)
Not being concurrently employed on a part-time or full-time basis
Financial Support
Contingent upon full participation and the program requirements being met, each participant will receive assistance in the amount of $2,000 (pre-tax) to help defray costs associated with living expenses.