Videoconference Center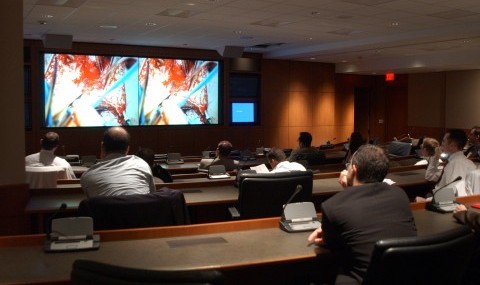 The videoconferencing center in the UT Southwestern Medical Center for Minimally Invasive Surgery enhances our ability to provide unmatched educational experiences for our trainees and surgeons.
The UT Southwestern Center for Minimally Invasive Surgery has emphasized alternate methods of surgical education from its inception. The technical expertise required for advanced minimally invasive surgery is not easily taught in the operating room and basic skills are required before novice surgeons may function effectively. During the past few years, we have demonstrated the effectiveness of skills training of residents and effectively used teleconferencing from our operating rooms on an ad hoc basis to improve CME courses. Technical advances in video teleconferencing and information processing now provide powerful tools to teach surgery in novel ways.
We now have a dedicated teleconferencing center that was underwritten by a coalition of surgical departments. The center is directly connected to three operating rooms at Parkland Memorial Hospital and two at UT Southwestern's Zale Lipshy University Hospital and contains state-of-the-art electronic equipment that allows integration of clinical data, online access to digital radiological images, interactive viewing of operations from operating rooms, and the ability to teleconference with other sites, both within and outside of UT Southwestern.
The center is capable of real-time interaction with surgeons in the operating rooms 24 hours per day. The novel aspect of our plan for the teleconferencing center is to use it daily for teaching medical students and residents as they rotate through General Surgery, Obstetrics/Gynecology, Urology, and other surgical subspecialties. The room is designed for self-directed and group teaching.