Simulation and Training Laboratory
In 1998, the UT Southwestern Medical Center for Minimally Invasive Surgery established one of the best (and earliest) skills labs in the United States. The Simulation and Training Laboratory is housed in the medical school building and contains a wide variety of heavily utilized simulation equipment within its 1,500-square-feet. In June 2006 the Center became accredited through the American College of Surgeons as a Regional Education Institute.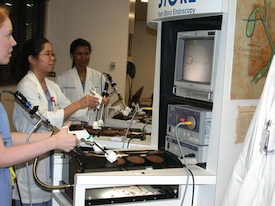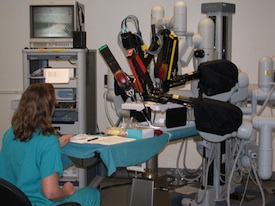 The Center for Minimally Invasive Surgery offers educational and training programs for students, residents, nurses, practicing physicians, and other allied health professionals. The core of its mission is to provide the most up-to-date education and training in minimally invasive surgical techniques.
Numerous modalities, including didactic lectures, computer-based tutorials, laparoscopic and virtual reality simulators, bench models, live surgery videoconferencing, and hands-on practice on operative models, are used to facilitate teaching knowledge, judgment, and technical skill components. Much of this teaching is conducted in the Simulation and Training Laboratory, as well as other center and campus facilities.
Simulators include a six-station Karl Storz Videotrainer (equipped with the five "Southwestern" stations, as well as FLS models and Common Bile Duct Exploration models), three MIST VR Systems, TEP Inguinal Hernia models, a Simbionix UroMentor and GIMentor, a B&K Ultrasound Machine and Sono Phantoms, and stereotactic breast biopsy equipment.
Numerous ongoing training courses are routinely offered and are supervised by the center's education coordinator, Kristine Gilberg-Fisher, R.N., and Seifu Tesfay, R.N., M.S., and faculty from several departments.
Skills Lab Curricula Video Tutorials
Download the training videos listed below to your desktop and view using RealPlayer. The player is free and can be obtained from the RealNetworks website.
Open Knot Tying and Suturing Curriculum
Southwestern Videotrainer Skills Tutorials
Open Knot Tying and Suture Curriculum - Intermediate
Skills Lab Curricula And Supporting Materials
Surgery Residents
General Open Knot-Tying and Suturing:
Video Tutorials (above)
References - Scott DJ, Goova MT, Tesfay ST. A Cost-effective proficiency-based knot-tying and suturing curriculum for residency programs. J Surg Res, 141:7-15, 2007.Goova MT, Hollet LA, Tesfay ST, Gala RB, Puzziferri N, Kehdy FJ, Scott DJ. Implementation, construct validity, and benefit of a proficiency-based knot-tying and suturing curriculum. J Surg Education (in press)
Trauma/Critical care:
Ultrasound for Central Line Placement
Ultrasound in the ICU
Ultrasound for Trauma FAST
Swann Ganz Catheter/Hemodynamic Monitoring
ATOM: Advanced Trauma Operative Management
TEC: Trauma Exposure Course
Tracheostomy & PEG Tube Insertion
Basic Echocardiography
Breast:
Scoresheets

Percutaneous Breast Biopsy
Ultrasound Guided Breast Biopsy
Breast Cryoablation
Vascular:
Laparoscopic:
Lap I Basic Laparoscopic Skills: Southwestern Stations

Video Tutorials
References

Lap II Basic & Advanced Laparoscopic Skills: FLS
Fundamentals of Laparoscopic Surgery (FLS) Ongoing Training
Laparoscopic Common Bile Duct Exploration (LCBDE)
Laparoscopic Energy Sources
Robotic Training:
Endoscopic:
Team Training:
3rd Year Medical Students and PA Students
Open Knot-tying and Suturing (Introduction)
References
MS3 Skills Poster Presentation:
Naylor RA, Hollett LA, Mitchell IC, Bowling MW, Ma A, Dineen SP, Bruns BR, Scott DJ. Can medical students achieve skills proficiency through simulation training? Surgical Education Week, Association for Surgical Education, Toronto, Canada, Apr. 15-19, 2008.
Lap II Basic & Advanced Laparoscopic Skills: FLS
Department Of Obstetrics and Gynecology
Open Knot-tying and Suturing
Lap II Basic & Advanced Laparoscopic Skills: FLS
Basic Laparoscopic and Open Cadaver Course
Team Training: Laparoscopic Patient Safety, Communication, and Leadership (joint curriculum with Departments of Surgery, Gynecology, Anesthesia, and Nursing)
3rd Year Medical Students and PA Students
Lap I Basic Laparoscopic Skills (Introduction)
Department Of Urology
UroMentor: Cystoscopy, Uretersocopy, and Percutaneous Nephrostomy
LapMentor: Laparoscopic Skills
Department Of Anesthesia
Team Training: Laparoscopic Patient Safety, Communication, and Leadership (joint curriculum with Departments of Surgery, Gynecology, Anesthesia, and Nursing)