Treatment Technology and Therapies
Physicians and physicists within the Department of Radiation Oncology at UT Southwestern are recognized worldwide as leaders in advanced radiation treatment techniques. A particularly robust specialty of our radiation oncology team is stereotactic ablative radiotherapy (SABR) – also known as stereotactic body radiation therapy (SBRT). SABR is a relatively new, noninvasive treatment in which high-dose radiation beams enter the body through multiple angles and intersect at the desired target. This allows for a concentrated dose to reach the tumor while limiting the dose to surrounding healthy tissues.
Our professionals also work closely with physicians in the Department of Neurological Surgery to treat patients at the Annette Simmons Stereotactic Treatment Center at Zale Lipshy University Hospital, which houses the Medical Center's Gamma Knife and CyberKnife.
The Department's advanced stereotactic technologies and therapies include the following:
Technologies
CyberKnife: Image-Guided Robotic Radiosurgery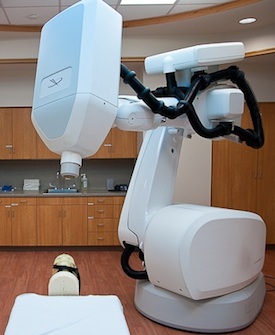 The CyberKnife uses a linear accelerator mounted on a robotic arm to focus multiple beams of radiation into the tumor. The CyberKnife is used to treat both primary and metastatic brain tumors as well as tumors of the head and neck, base of skull, spine, lung, pancreas, liver, kidney, breast, and prostate. At the Department's Annette Simmons Stereotactic Treatment Center at Zale Lipshy University Hospital, both radiosurgery and radiotherapy with CyberKnife are performed on an outpatient basis.
Agility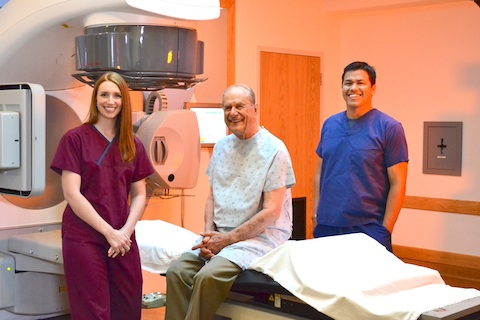 The Department of Radiation Oncology is one of the leading facilities in the world for treatment of tumors in the body using SABR/SBRT. At our main clinic in the Moncrief Radiation Oncology Building, stereotactic radiosurgery is performed using the next-generation Elekta Agility linear accelerator with multifunctional intelligent beam shaping. This advanced machine offers integrated digital control of leaves and leaf guides, combined with unique Rubicon optical leaf positioning for accurate beam shaping. Coupled with extremely low leaf transmission of less than 0.5 percent, Agility enhances treatment delivery while reducing integral dose.
Vero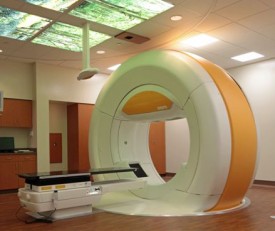 UT Southwestern Medical Center is the first institution in North America to install Vero, an advanced system for delivering noninvasive radiation treatment to cancer patients. The Vero system integrates many state-of-the-art radiation therapy capabilities into one machine and is designed to locate tumors and meticulously direct radiation precisely where it is needed.
The Vero machine also incorporates several different types of imaging technologies, including X-ray, CT, and fluoroscopy, which allow clinicians to locate and track tumors, even when the patient's body moves. Unique to the Vero is a gamboled linear accelerator head that can move in multiple directions.
TrueBeam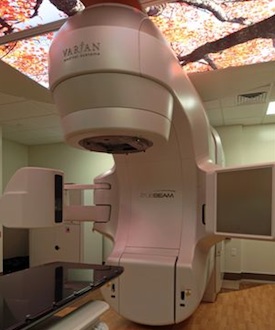 The versatile TrueBeam™ system from Varian is designed to address complex clinical cases such as those involving the lung, liver, head and neck, and more. TrueBeam integrates respiratory gating, real-time tracking, imaging, and treatment delivery. With this integration, our clinicians are to treat patients using the latest treatment techniques, including SABR/SBRT and RapidArc®.
Gamma Knife: Precise Cranial Radiosurgery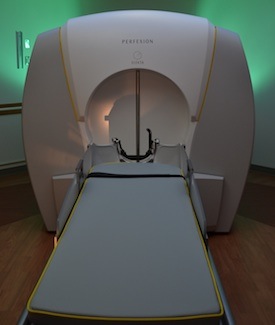 Also housed at the Annette Simmons Stereotactic Treatment Center is the Gamma Knife. Contrary to what the name implies, it is not really a knife at all. Instead, the Gamma Knife uses beams of highly focused gamma rays to treat tumors or other abnormalities in the brain. The Gamma Knife remains the most precise tool available to treat brain tumors and multiple metastatic brain lesions, arteriovenous malformations (an abnormal connection between the arteries and veins), and functional problems such as trigeminal neuralgia. For this single-day outpatient procedure, the patient is fitted with a head frame which immobilizes the head and guides the beams to the desired location.
Specialized therapies
Brachytherapy
Brachytherapy is a form of radiation therapy in which a radioactive source is placed in direct contact with the tumor or treatment area. Implantable seeds or gel, as well as temporary exposures using paddles or other devices are all examples of brachytherapy.
High-dose rate (HDR) brachytherapy is the newest form of brachytherapy treatment, and is most often used for gynecological cancers, head and neck cancers, and skin cancers. A device or holder is placed on the area to be treated, or into the area through a natural body orifice. The device is then connected to the HDR machine and a small but intense radiation source is loaded into it. The dose is delivered in approximately 5-10 minutes. Once the treatment session is complete, the radiation source is withdrawn back into the machine and the device is removed from the treatment area. The patient is discharged to return several days later for additional treatments.
Low-dose rate (LDR) brachytherapy has been replaced by HDR brachytherapy for treatment of some cancers but remains a cutting-edge technology for treatment of other cancers. UT Southwestern is pioneering a technique to treat recurrent brain tumors by depositing radioactive iodine "seeds" (similar to those used in prostate treatment) in the brain using minimally invasive, "through the nose" natural orifice surgery. The Department also uses P-32 liquid phosphorus for relief of cystic brain tumors.
Deep inspiration breath-hold with Vision RT for breast cancer
For women who must receive whole-breast radiation to the left breast, taking a deep breath during radiation delivery can move the heart out of the field of radiation. UT Southwestern is the first institution in Texas to combine this technique with a high-tech surface video monitoring system called Vision RT. The Vision RT cameras track the patient's movements while breathing, ensuring that radiation is only delivered when the target is in position, and switching the beam off when the patient exhales or otherwise moves.
Intensity modulated radiation therapy (IMRT) for head and neck cancers, prostate, lung, and brain
This state-of-the-art treatment allows doctors to use multiple radiation beams of varying lengths and intensity. The radiation beams may be moved dozens or hundreds of times during treatment, resulting in a radiation field that is "sculpted" in three dimensions. Rather than creating a uniform field of radiation, the radiation is delivered to precisely conform to the actual shape of the tumor, thus sparing surrounding healthy tissue.
Stereotactic radiosurgery (SRS) and stereotactic radiotherapy (SRT) for brain tumors and other intracranial cancers
SRS-SRT involves a single, high-dose application of radiation to a tumor, instead of the many smaller doses given in standard radiation treatment. Several radiation beams are precisely aimed to converge upon a small tumor. The patient lies on a couch that rotates 180 degrees for maximum targeting, while minimizing radiation to the surrounding normal tissue. It is effective in treating brain tumors, some head and neck tumors, and abnormal blood vessels in the brain.
Stereotactic body radiation therapy (SBRT)
Through innovation and clinical testing, clinicians and physicians at UT Southwestern have led the development of stereotactic body radiation therapy (SBRT), the natural extension of the principles and successes seen from central nervous system SRS. Localized tumors in the body are targeted and treated using stereotactic techniques in a similar fashion as with the brain while accounting for the motion of the body. In the brain, motion is not a significant problem. In the body, however, tumors move constantly by natural processes such as breathing and digestion, which can cause significant problems with targeting. Using advanced image-guided systems, physicians can compensate for this motion and deliver the highest dose of radiation treatment possible to the tumor target without damaging surrounding normal tissue.
Four-dimensional radiation treatment planning
The Department of Radiation Oncology uses a state-of-the-art 4-D CT (computed tomography) scanner that reproduces the tumor size, location, and movement for each patient. This simulation is used to test various treatment fields and immobilization devices used to position the patient during radiation therapy. With this picture, they can shape and mold multiple beams of radiation to fit the size and shape of a tumor, and thus treat tumors with extreme accuracy.
Pediatrics
The Department of Radiation Oncology at UT Southwestern is the primary referral center for Children's Medical Center Dallas, one of the largest pediatric health care facilities in the nation. As a result, our team is highly experienced in providing the specialized care needed to treat pediatric cancers. Our physicians participate in two weekly tumor boards with pediatric medical oncologists, pediatric neurosurgeons, and other specialists at Children's. A pediatric anesthesiologist participates in the treatment of very young children, as do dedicated therapists and physicists able to tailor treatment plans to the distinct cancer profiles and special needs of children.
We have one of the largest pediatric brain tumor programs in the country (treating about 1 in 20 patients nationwide), and are also one of the few programs currently treating children with SBRT.