Chair's Message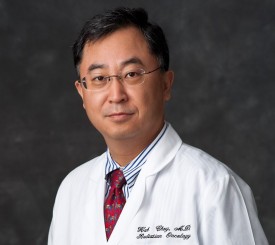 The Department of Radiation Oncology is unique in all of North America in terms of the breadth of our technology, research, and patient care capabilities. Each day brings us closer to realizing our commitment to providing the future of medicine, today.
An important part of that commitment is our team approach to the future of medicine:
Through major multi-institutional basic and clinical research grants initiated by the Department, UT Southwestern is fostering collaborative scientific efforts to find new ways of treating patients and understanding disease.
The multidisciplinary nature of the wide-ranging schools of UT Southwestern allow us to serve our patients using a team-based approach with fellow physicians at the Harold C. Simmons Comprehensive Cancer Center, the Department of Neurological Surgery, Children's Medical Center and others.
Our state-of-the-art treatment facilities, including the new Radiation Oncology Building on UT Southwestern's West Campus (opened in September 2011), allow us to demonstrate excellence in patient care while providing learning opportunities to students and visiting medical professionals.
In March of 2011, the first Vero machine in the United States – a $6 million radiosurgery treatment machine designed specifically for stereotactic treatment – was delivered to the Department of Radiation Oncology at our new facility on the West Campus. As leaders in the field of stereotactic treatment, our physicians, physicists, engineers, and other staff will be among the first to use this and other new technologies to further our understanding of the capabilities of radiation treatment.
Our patient services are enhanced by the vast depth of research conducted by our Division of Medical Physics and Engineering, and the Division of Molecular Radiation Biology, both of which house leading scientists in their respective areas.
Education is the cornerstone of our program. The Department offers full-spectrum academic training programs for every aspect of our practice. We offer residencies in radiation oncology and medical physics, as well as training programs for dosimetrists and radiation therapists (the latter in conjunction with UT Southwestern's School of Health Professions). In addition, we offer advanced professional training in the newer field of stereotactic body radiation therapy.
I hope the information you find on this website will be helpful as you explore centers of excellence in medical education, research, and patient care. If you have other specific questions about the Department of Radiation Oncology, please contact us.
Hak Choy, M.D.
Professor and Chair, Department of Radiation Oncology
Nancy B. and Jake L. Hamon Distinguished Chair in Therapeutic Oncology Research