Residency in Medical Physics
Welcome
The Division of Medical Physics and Engineering at the Department of Radiation Oncology at UT Southwestern is engaged in three primary areas of activity: clinical service and consultation, research and development, and education.
Comprised of more than 80 employees, including medical physics faculty, dosimetrists, engineers, programmers, residents, fellows and graduate students, our vision is to become one of the world's leading academic medical physics residency programs by working closely with clinicians and researchers in other relevant areas to solve important clinical problems through technological innovation.
Our growing residency program attracts top-achieving applicants who share our desire to innovate and transform the field of radiation oncology.
Thank you for visiting us.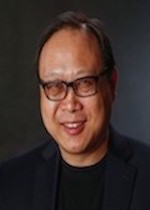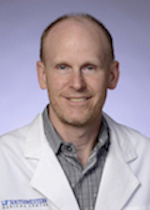 Overview
UT Southwestern's Department of Radiation Oncology is comprised of three divisions: clinical radiation oncology, medical physics and engineering, and molecular radiation biology, is a leader in the development and clinical implementation of innovative treatment strategies in radiation therapies. We provide exceptional opportunities for translation of laboratory science into clinical trials and an integrated program of medical, radiation, and surgical oncology.
Our department embraces education and supports the medical physics residency, as well as:
GPU programming for medical physics and medical imaging research
Variety of postdoctoral opportunities in our research areas
Our three-year Medical Physics Residency program, accredited by the Commission on Accreditation of Medical Physics Educational Programs (CAMPEP), is comprised of two years of full-time clinical training and one year of research in medical physics and emphasizes clinical excellence and academic career development in radiation oncology physics. Much like an apprenticeship, our residents are an integral part of the radiation oncology team working closely in all aspects of patient care.
Our Faculty
Residency training, conducted by faculty from the Division of Medical Physics and Engineering within the Department of Radiation Oncology, is overseen by Paul Medin, Ph.D., Residency Director; Robert Reynolds, Ph.D., Associate Director, and the Medical Physics Residency Committee. In addition, the team includes 27 physics faculty, 10 dosimetrists, 12 postdoctoral researchers, six visiting junior researchers, three visiting faculty, three service and research engineers, and five computer programmers.
Every year, we're at the American Association of Physicists in Medicine (APPM) Annual Meeting Residency Fair, so come by and meet us!
Current Residents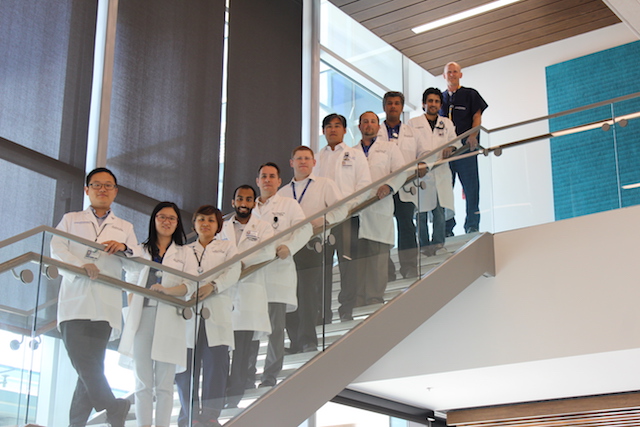 Education and Research
The physics faculty works closely with our team of radiation oncologists and medical residents who provide services to approximately 200 patients each day. Medical physics faculty also collaborate closely with colleagues in the Division of Molecular Radiation Biology, other UT Southwestern departments, and other UT campuses.
Graduating residents are expected to be well-prepared for the American Board of Radiology examination in therapeutic radiological physics and are encouraged to become contributing members of the medical physics community at large.
Education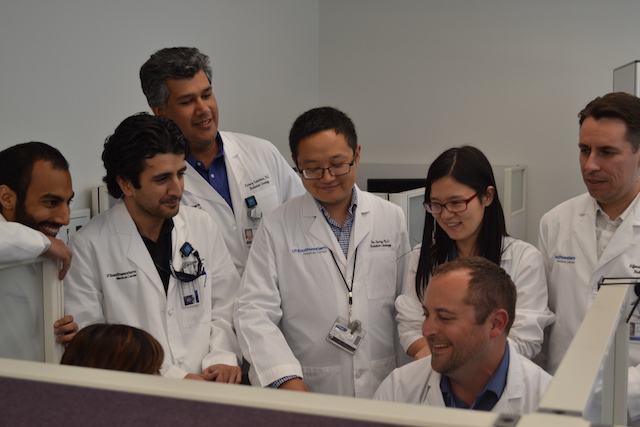 Upon completion of the program, residents are expected to have a solid foundation on which to build an academic career in medical physics. The expected activities, objectives, and assessments to be completed during the residency are well-defined and will be presented to incoming residents upon their arrival.
Didactic courses are available to residents, but the majority of time is spent in "hands-on" clinical rotations.
Research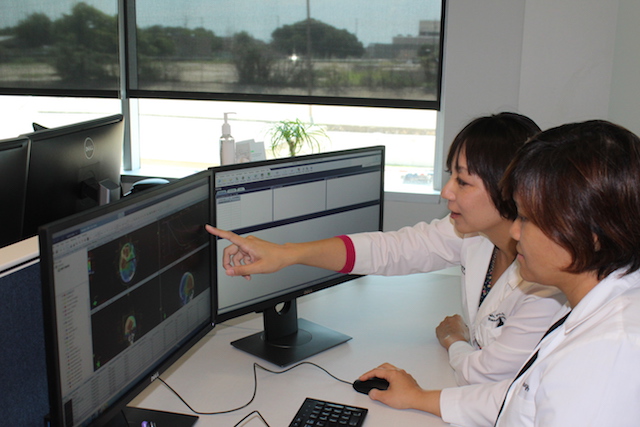 Approximately half of the physics and engineering faculty are focused primarily on research and are heavily funded by the National Institutes of Health, American Cancer Society, Radiological Society of North America, Cancer Prevention & Research Institute of Texas and various corporations. Our extramural physics research funding is about $15 million.
All research efforts are supported by a dedicated administrative staff, including personnel who handle grants in pre- and post-award phases. Current research projects include:
Artificial intelligence and deep learning in medicine
GPU and cloud-based automatic treatment planning
Adaptive re-planning
Normal tissue toxicity
GPU-based Monte Carlo simulation packages
Low-dose and 4D CBCT reconstruction
Facility
In April 2017, we opened a 63,000-square-foot radiation oncology building dedicated solely to the purpose of treating cancer. The new center consolidated our two main clinics to bring care, physics, and research under one roof. Future plans include expansion and the development of a heavy ion therapy and research center.
Our center houses many of the world's most advanced radiotherapy tools, including:
Two Varian TrueBeams™
Two Varian VitalBeams™
Varian Trilogy®
Two Varian 2100Cs
Varian Eclipse™
Two Elekta Versa HDs™
Elekta Agility™
Elekta Gamma Knife® Icon
Accuray CyberKnife® M6™
Xstrahl superficial unit
Two Varian VariSource™ iX HDR afterloaders
Two Philips 16-slice Brilliance large-bore 4-D CT simulators
Two Calypso® electromagnetic tracking systems
Three VisionRT systems
Brainlab Airo® mobile, compact CT-simulator

Our clinical facilities offer a broad range of radiation oncology procedures including IMRT, SRS, SBRT, TBI, TSE, HDR and LDR brachytherapy, as well as cranial and pelvic LDR and nuclear medicine procedures.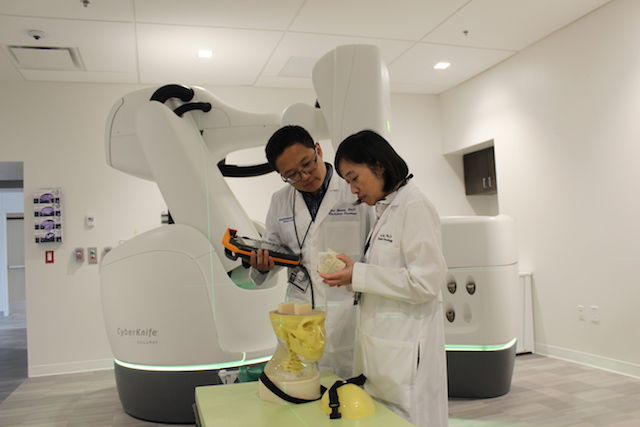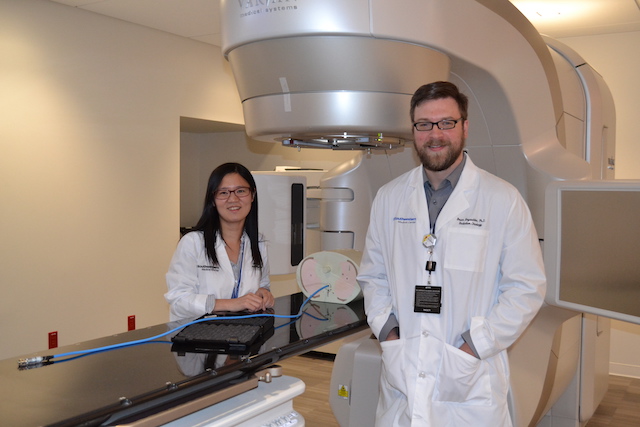 Salary and Benefits
The current (7/1/17) stipend for medical physics residents is $47,484 for PGY1. Salary increases that are based on the Parkland Medical Resident salary scale (Parkland scale value minus $4,000) occur in the second (PGY2) and third (PGY3) years. For the 2017-2018 year, the increases were to $56,122 for PGY2 and $58,570 for PGY3.
Benefits include:
Comprehensive health coverage at no cost to the resident. Dependent health coverage, supplemental life, dental, and vision plan insurance are available for both the resident and his/her dependents at a reduced rate
Low-rate automatic eligibility disability coverage
Malpractice and a basic life insurance policy are provided
Fifteen working days paid vacation per academic year plus 10-12 paid holidays per year (depends on if holidays fall on weekdays or weekend days)
Time for professional development
Sick leave – residents accrue 12 days per year during training
Two lab coats provided by the university at the beginning of residency (laundering is provided free of charge)
Professional career training
Professional allowance (discretionary account) to support travel and other professional needs
Dallas offers a lower cost of living than many U.S. cities. Compare cost of living and relocation.
Eligibility
Applicants must do the following before entering the program:
Preference is given to graduates of CAMPEP-approved medical physics graduate programs, but all qualifications are considered in the review process. Coursework completed outside of a CAMPEP-accredited graduate program should be evaluated by the CAMPEP Graduate Education Program Review Committee for CAMPEP equivalence. Instructions for review of coursework can be found on the CAMPEP website.*
Application Process
Submissions accepted: October 15 – December 15 for positions starting the following July.
Application materials are accepted only via the AAPM's Medical Physics Residency Application Program (MP-RAP). Incomplete application materials or applications received prior to or following these dates will not be considered. We recruit through the Medical Physics Match Service. To apply, applicants must participate in the match. Our code number is 16611.
The application review process is typically completed by January 15 and the highest ranking candidates are invited for a personal interview to take place in February.
Applicants are encouraged to familiarize themselves with informational literature regarding the medical physics profession, including:
Documents can be obtained from the American Association of Physicists in Medicine.
Medical Physics Residency Statistics
| | 2008 | 2009 | 2010 | 2011* | 2012 | 2013 | 2014 | 2015 | 2016 |
| --- | --- | --- | --- | --- | --- | --- | --- | --- | --- |
| Applicants | 45 | 46 | 113 | 42 | 45 | 86 | 83 | 96 | 73 |
| Accepted | 2** | 1 | 1 | 1 | 2 | 2 | 2 | 3 | 5 |
| Graduating | 0 | 1 | 1 | 1 | 1 | 1 | 2 | 2 | 2 |
| Certified | 0 | 0 | 1 | 1 | 1 | 1 | 1 | 2 | 0 |
| Industry | 0 | 0 | 0 | 0 | 0 | 0 | 0 | 0 | 0 |
| Clinical positions | 0 | 1 | 0 | 0 | 1 | 0 | 1 | 1 | 1 |
| Academic positions | 0 | 0 | 1 | 1 | 0 | 1 | 1 | 1 | 1 |
| Other activities | 0 | 0 | 0 | 0 | 0 | 0 | 0 | 0 | 0 |
*We began requiring applicants to have a Ph.D. in 2011.
**We accepted one transfer from a CAMPEP-accredited residency as a senior resident.
About UT Southwestern
The passion for excellence is pervasive and is reflected in many ways at UT Southwestern:
Ongoing support from federal agencies, private foundations, individuals and corporations provides more than $424 million per year to fund over 3,500 research projects
A close and beneficial relationship between basic science and clinical departments
Ranks among top academic medical centers in the world
Our faculty members, who are responsible for an array of groundbreaking biomedical research advances, are respected for their dedication to teaching, training, and patient care. Among them:
Six have been awarded Nobel Prizes since 1985
22 members are part of the National Academy of Sciences (NAS)—one of the highest honors attainable by an American scientist
18 members of the National Academy of Medicine (formerly the Institute of Medicine), a component of the NAS
Many are members of the the Association of American Physicians and the American Society of Clinical Investigation
With more than 16,000 faculty and staff, we provide:
Training to approximately 3,600 medical, graduate, and health profession students, residents, and postdoctoral scholars each year
Care to more than 100,000 hospitalized patients, 600,000 emergency room cases, and oversee approximately 2.2 million outpatient visits annually
Learn more about the UT Southwestern system.
Life in Dallas
The city of Dallas is the most populous city in the Dallas-Fort Worth metroplex and fourth in the United States. A thriving economy, lower cost of living, no state income tax and central location make it attractive to individuals, families and companies looking to relocate. The metroplex is consistently ranked as one of the top areas for growth in industry headquarters and statistically adds one new local resident every five minutes.
Dallas has earned a solid reputation in a variety of areas including:
Culture – The Dallas Museum of Art, Meyerson Symphony Hall, Nasher Sculpture Garden, Dallas World Aquarium, Perot Museum of Science and Technology,
Dining – From world-famous steakhouses and Tex-Mex to BBQ and sushi, you can find everything here—and lots of it!
Sports – Home to the Dallas Cowboys, Dallas Mavericks, Texas Rangers and Dallas Stars, as well as many popular college and high school teams, sports fans are sure to find a new team to cheer on.
Outdoors – Located in East Dallas, is White Rock Lake, host of the annual Dallas Marathon—the oldest marathon in Texas. Right off the lake is The Dallas Arboretum and Botanical Garden, which boasts 66 acres of perfectly manicured ground. It is open year-round, hosts an annual pumpkin patch and 12 Days of Christmas, and is home to Rory Meyers Children's Adventure Garden, designed to help engage children with nature while learning.
Shopping – The birthplace of the famed Neiman Marcus, Dallas is renowned for its elegant and upscale shopping.
Watch "Say Yes to Dallas," a video by the Dallas Regional Chamber.
Contact Us
For more information about the Medical Physics Residency program, please contact:
Michelle D. Hughes, Senior Education Coordinator
Michelle.Hughes@UTSouthwestern.edu
Office: 214-645-2568