Chair's Message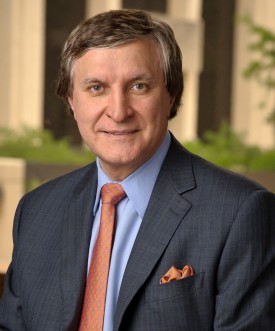 As the Chair of the Department of Plastic Surgery at UT Southwestern for the past 20 years, I have been honored to participate in the phenomenal growth of our Department and advancements that have transformed our field.
Since 1991, we have expanded from a small division to our current Department of Plastic Surgery with 20 full-time faculty and 22 residents (17 integrated and 5 independents) annually. We are the largest, most clinically and academically productive plastic surgery department in the United States. This places us in the top echelon of programs in our field in the world.
I am tremendously proud of our innovative educational programs, our tremendous clinical care, and advanced research facilities that have transformed us as a premier Department of Plastic Surgery. We have, without a doubt, an internationally known and highly skilled team that provides both primary and tertiary care for plastic surgery patients locally, regionally, nationally, and globally.
Our plastic surgery resident training is legendary. Because of the excellence of our faculty and our leadership in state-of-the-art reconstructive and aesthetic care and groundbreaking research, the plastic surgeons we train are exposed to discoveries that have benefitted patients worldwide. This ranges from new and unique ways of reconstructing breasts, to innovations in wound care and advances in cosmetic and reconstructive surgery.
No other program in the country matches our numerous didactic conferences, anatomic courses, and day-to-day, one-on-one faculty and resident/medical student teaching in our operating rooms and clinics. It is both balanced and diverse. We offer comprehensive educational conferences, as well as high-intensity and high-volume operative procedures which are performed at our University hospitals (St. Paul University Hospital and Zale Lipshy University Hospital), as well as Parkland Health & Hospital System, Children's Medical Center Dallas, and the Dallas Veterans Affairs Medical Center.
In the 20 years that I have been Chair of the Department of Plastic Surgery, UT Southwestern Medical Center has accomplished much and has seen immense progress. We have built upon our outstanding medical school and research center of excellence, with six Nobel laureates, to become a superb academic health center for clinical medicine.
The next phase of UT Southwestern's continued growth includes a $2.2 billion hospital complex: a new Parkland Memorial Hospital with more than 1,000 beds, and the new William P. Clements Jr. University Hospital. The William P. Clements Jr. University Hospital will be a 460-bed, state-of-the-art, highly interactive, educational facility where we can provide unique educational modules for medical students and residents.
Tomorrow's medicine is being practiced today and on display in the Department of Plastic Surgery at UT Southwestern Medical Center.
We are pleased to have you come join us. The best is yet to come.
Sincerely,
Rod J. Rohrich, M.D., FACS
Professor and Chair, Department of Plastic Surgery
Crystal Charity Ball Distinguished Chair in Plastic Surgery
Betty and Warren Woodward Chair in Plastic and Reconstructive Surgery