Research Highlights
Clinical and basic science researchers within the Department of Otolaryngology – Head and Neck Surgery actively contribute to the overall body of knowledge in the Department. This is done through patient-oriented investigations and biomedical research that encompasses all of the subspecialties in the field: otology, rhinology, head and neck, pediatrics, laryngology, and facial plastics. The ultimate goal of research in the Department is to improve the understanding of and patient care for a variety of conditions in Otolaryngology – Head and Neck Surgery.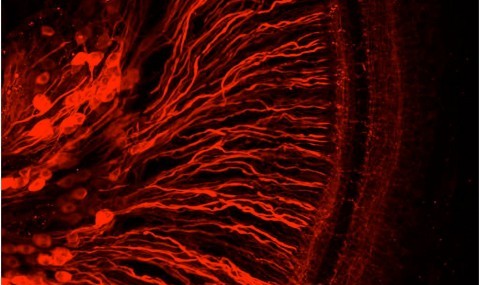 Research Highlights
Roger W. Chan, Ph.D.
Associate Professor
Otolaryngology and Biomedical Engineering Graduate Program
Dr. Chan is interested in both basic and applied studies of the human larynx at many different levels. In particular, his focus is on vocal fold tissue mechanics and biorheology and their relationships with voice acoustics and laryngeal physiology. Another area of emphasis is tissue engineering and regenerative medicine, where various types of extracellular matrix scaffolds are being developed as tissue replacements for surgical applications. Dr. Chan's current lab projects include quantification of key biomechanical characteristics of human laryngeal tissues, physical models and computer models of the larynx, and tissue engineering of the larynx.
Che Xu, Ph.D.
Assistant Professor
Otolaryngology
Dr. Xu's primary research interests include tissue engineering of the vocal fold, anatomy and physiology of voice production, and laryngeal biomechanics. His current project involves the development and testing of a vocal fold lamina propria tissue replacement for surgical applications. The future research plans of Dr. Xu's lab revolve around the development of materials for vocal fold engineering and reconstruction. The complexity of the human vocal fold and the various possible tissue engineering approaches make this a rich topic with many challenges to be resolved.
Kenneth Lee, M.D., Ph.D.
Assistant Professor
Otology, Neurotology, Skull Base Surgery
Dr. Lee's research interests are in basic and clinical research related to cochlear implantation and etiologies of childhood deafness. His basic research is focused on understanding axon guidance and synaptogenesis in spiral ganglion cells. The goal of this work is to biologically optimize the interface between the electrodes of a cochlear implant and the spiral ganglion neurons in deaf patients to enhance the quality of sound perceived and improve hearing performance in implant users.
Karen Pawlowski, Ph.D.
Assistant Professor
Otolaryngology and Biomedical Engineering Graduate Program
The biomaterials component of Dr. Pawlowski's laboratory is focused on research and development of substances and materials designed to reduce implant failure associated with infection by reducing biofilm formation. Evidence is accumulating that biofilms are playing a role in the development of intractable infections in the rare instances where cochlear implants require surgical management for infection. We are examining behavior of biofilm in vivo and in vitro to develop techniques that will limit biofilm development on implantable materials or allow for successful treatment of biofilm if one does develop. Biofilms have also been shown to be present in several forms of otitis media. It is believed that the presence of biofilm contributes to the chronic nature of these infections. We are studying new treatments that could reduce the need for surgical intervention.
Dr. Pawlowski has worked in ultrastructure of the inner ear since the 1980s. In collaboration with C.G. Wright, Ph.D., and Kumar Alagramam Ph.D., from Case Western Reserve University, she has been investigating the effects on organ of Corti morphology of mutated genes responsible for auditory and vestibular pathology in Usher's syndrome. Patients with Usher's lose their hearing early in life and go on to lose their vision by early adulthood. Understanding the role of these genes in the ear may lead to treatments for this condition in the future. Ultimately, it may improve patient outcome.
Gary Wright, Ph.D.
Adjunct Associate Professor
Otology Lab
Cochlear implant research underway at the Otology Laboratory is focused on the development of improved electrode designs for use in patients who have significant levels of residual hearing. One objective of this work, which is being done in collaboration with the major implant manufacturers, is to develop new electrode arrays that provide effective electrical stimulation but do not traumatize those portions of the cochlea where viable sensory cells and neural elements may still be present.
A second aspect of the research relates to new types of implant electrodes capable of delivering not only electrical stimulation but also pharmaceutical agents that may have beneficial effects on the inner ear, such as reduction of inflammation or preservation of spiral ganglion cells.
These research efforts utilize both human temporal bone material and animal models. The human temporal bone studies are directed by Dr. Wright and the experimental animal work is under the direction of Karen Pawlowski, Ph.D., both of whom are faculty members in the Department of Otolaryngology – Head and Neck Surgery of UT Southwestern.
In addition to studies relating to cochlear implants, the Otology Laboratory is involved in research on hearing loss and balance disturbance in genetic disorders, human temporal bone histopathology, evaluation of new drugs for treatment of external and middle ear infections, and development of implantable devices for inner ear drug administration.
Read more about Inner Ear Anatomy and Cochlear Implantation: Morphological Observations Relevant to Implant Trauma.