Reproductive Endocrinology and Infertility Fellowship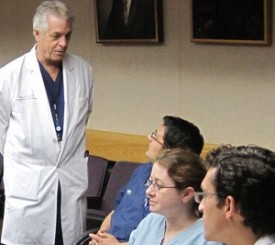 The Reproductive Endocrinology and Infertility (REI) Fellowship Program is a three-year program designed to prepare fellows for a career in academic medicine. The American Board of Obstetrics and Gynecology (ABOG) has approved the Program for five fellows.
The REI Fellowship at UT Southwestern Medical Center has been in existence since 1974, and Bruce Carr, M.D. has been Fellowship Director since 1986.
The Fellowship Program is well-rounded and includes extensive clinical experience as well as opportunities for basic and clinical research. Six consecutive months are devoted to clinical care and six to research in each year of the Fellowship.
Program Strengths
The Division has 10 faculty members. There are eight reproductive endocrinology and infertility faculty with M.D. degrees. The M.D.s are all Ob/Gyn board-certified; five of them are also certified in reproductive endocrinology and infertility. The division has two Ph.D.s, one of whom is certified as a high-complexity laboratory director.
All the fellows who have trained in our REI Fellowship Program since 1986 have successfully passed their written REI board examinations the first time, and 98 percent have also passed their oral boards on the first try.
Clinical Facilities
Clinical experience is enhanced with rotations in UT Southwestern's Fertility and Advanced Reproductive Medicine Program, Parkland Health & Hospital System, and the Center for Assisted Reproduction in Bedford, Texas.
Outpatient surgery is available at UT Southwestern's Outpatient Building and the Simmons Ambulatory Surgical Center at Parkland. Inpatient care is provided at William P. Clements Jr. University Hospital and Parkland Memorial Hospital.