UT Southwestern stroke unit's "team approach" saves patient's life
By Julie Kirchem, Neurology Information Services
On the day she was scheduled to be discharged from UT Southwestern University Hospital – Zale Lipshy, Tela Greene smiled and talked with one of her doctors, Dr. Jessica Lee, Medical Director of the Acute Neurovascular Unit and Assistant Professor of Neurology.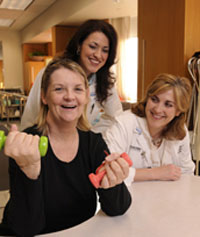 "You saved my life," Greene told her. Less than six weeks earlier, Greene had been in a drug-induced coma at a hospital in West Texas where doctors had given her family a grim prognosis.
The long and frightening journey started when Greene checked into her hometown hospital for what was supposed to be a quick, outpatient endoscopy. But when the procedure was over and the anesthesia started to wear off, Greene was not moving the left side of her body. She was admitted to the hospital for stroke and soon started having seizures. Greene had never had seizures before. She recalled that day with disbelief, "you thought you were going in for a 30-minute procedure and ended up in the ICU."

A CT scan of her brain revealed that Greene had a stroke but no one knew the cause. Doctors put her into a drug-induced coma to stop the seizures but when another attempt to bring her to consciousness led to more seizures, they offered little hope to her family.
"My family was told that I was 85 percent brain dead and I would be in a vegetative state," Greene said. Her two adult daughters refused to give up hope and they searched the Internet for hospitals known for their advanced stroke care and treatment. They decided UT Southwestern in Dallas was the best place for their mother.

When Greene arrived at Zale Lipshy, it didn't take long for doctors in the acute neurovascular unit to determine what was causing the seizures. An MRI of her brain revealed multiple areas of stroke, thought to be caused by very high blood pressure.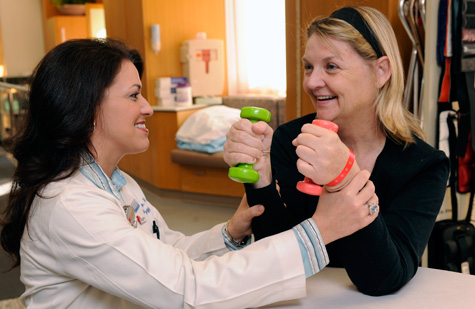 "Dr. Lee, the first time she met her, knew what was going on," said Amanda (Mandy) Dirickson, an adult nurse practitioner with the UTSW stroke team.

Dr. Lee talked with family members about any medications that Greene may have been taking. She learned that Greene had been on a headache prescription for nearly 30 years prior to the procedure but had recently stopped taking it. Dr. Lee realized her patient was in withdrawal and that was causing the seizures. The team was able to start another medication in its place which finally controlled the seizures, and allowed them to bring Greene out of her coma.
"It was certainly the great skill set of the physicians and then rapid understanding of what was going on that made it possible to institute the right treatment very quickly," Dirickson said.

Dr. Lee explains one of the strengths of the stroke unit is its team approach. "We have the expertise in stroke care, neurocritical care, and other specialties to take care of any need a patient may have," said Dr. Lee.

Patients like Greene benefit from a specially trained team of medical professionals with stroke expertise. The team includes a stroke neurologist, stroke service residents, neurocritical care faculty and residents, therapy teams, neuroscience nurses, and nurse practitioners like Amanda Dirickson who is dedicated to only stroke care.
Dirickson, who received additional training from the stroke faculty, offers inpatient continuity. At the bedside, she is the voice of the team while the stroke neurologist leads the management of cases. Dirickson also teaches patients or their family members about their circumstances and explains the plan for treatment and recovery.

Greene credits the team approach for her nearly full recovery, "Dr. Lee, Mandy, nurses in the ICU, acute stroke care unit and rehab, they worked with you so hard and diligently." She said doctors were even able to help alleviate the headaches she has suffered with for most of her life.
Zale Lipshy has earned a reputation as an innovative facility where faculty physicians treat patients with difficult cases who are referred by other hospitals. Patients have access to the latest diagnostic and therapeutic techniques in a setting of genuine care and concern.

Greene still has some weakness on the left side of her body from her stroke but shows no other sign that she had almost lost her life just a few weeks earlier. Her medical team is optimistic she will make a full recovery.