Dr. Robin Novakovic, UTSW Stroke Team save Carrollton man after life-threatening stroke
By Jeff Carlton, UT Southwestern News and Publications
John Frost's recovery from a life-threatening stroke was so swift and complete that it still stuns his daughter, Lisa Seutter.

Just five hours after suffering a stroke so serious that he had to be flown by helicopter from a Plano emergency room to Zale Lipshy University Hospital, Mr. Frost regained use of his limbs and the ability to speak. He even was coherent enough to ask about his grandson's golf tournament.

"The doctors let us go into the ICU to talk to him, and one of the first things he said is, 'How did Eric do today?" said Mrs. Seutter, one of Mr. Frost's three daughters. "It's incredible, a miracle. Everybody involved with his care at Zale Lipshy knew exactly what to do."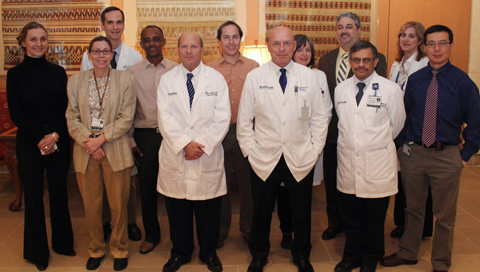 The 72-year-old Carrollton man owes his life to his quick-thinking wife, a recently approved device that mechanically removes stroke-causing clots, and the expertise of UT Southwestern Medical Center's stroke, neurocritical care, and interventional neuroradiology teams.
"His case is about the best you can hope for," said Dr. Robin Novakovic, Assistant Professor of Radiology, and Neurology and Neurotherapeutics. "Mr. Frost made a quick and profound recovery after his treatment."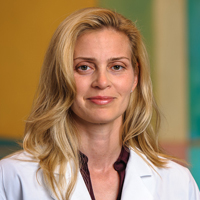 Mr. Frost's medical scare began on the afternoon of Aug. 6. Alberta Frost walked into their bedroom just as her husband of 47 years was waking up from an afternoon nap. She immediately knew something was wrong. The right side of his body seemed paralyzed, and his speech was unintelligible. Over her husband's mumbled objections, she called 911.
"He was struggling to get out of bed, as if his body wasn't working right," Mrs. Frost said. "I tried to ask him questions, but when he spoke, it came out garbled and slurred. I immediately thought it was a stroke."
Mrs. Frost's decision to call for help was the first in a series of timely actions and smart decisions that likely saved her husband's life. Stroke is the fourth-leading cause of death in the United States, killing more than 133,000 people each year. There are about 795,000 strokes nationwide annually, according to the National Stroke Association.
Although the Food and Drug Administration approved an effective clot-busting drug called tissue plasminogen activator (tPA) more than 15 years ago, today fewer than 5 percent of stroke victims receive it. That's because the drug is most effective if administered within three hours. Too many stroke victims, however, don't recognize their symptoms as signs of stroke and wait too long to seek treatment, Dr. Novakovic said. Mrs. Frost's 911 call, however, ensured her husband would receive treatment in time.
An ambulance hurried Mr. Frost to a nearby Plano emergency room. Brain imaging revealed a large clot in a blood vessel on the left side of his brain. Although still within the three-hour window, the neurologist decided against treating him with tPA because Mr. Frost recently had heart surgery. Instead, the neurologist had another suggestion.
"She said our best option was to go to UT Southwestern," Mrs. Frost said.
UTSW, whose Neurology and Neurological Surgery departments are nationally ranked by U.S. News & World Report, had a depth and breadth of endovascular expertise that is unmatched in Texas. It also had a new stent retriever device called a Solitaire, which received FDA approval in April.
The Solitaire has two advantages over the clot-busting drug tPA: It can be used outside the three-hour window and is more effective in opening the blood vessel. The clot retrieval system has faster rates of blood vessel canal restoration and fewer complications than older devices, Dr. Novakovic said.

To get to Mr. Frost's clot, Dr. Novakovic inserted a catheter into one of his thighs and threaded it up through an artery to the brain and the site of the clot. She then unsheathed a stent-like metal cage that engulfed the clot, allowing her to pull the stent and clot out.
"We removed the clot with one pass and opened up the artery right away," Dr. Novakovic said. "From the time we started to the time we ended, it was only 45 minutes."
Another of Mr. Frost's physicians, Dr. Worthy Warnack, Associate Professor of Neurology and Neurotherapeutics, put his patient through some paces. "He asked me to stick out my tongue, touch my fingertip to my nose, touch moving objects with both hands. And I could do it," Mr. Frost said. "Dr Warnack was just so pleased. He was bringing people around to show me off."
"We have a complete stroke care team here. They all are experienced, professional experts, and they do this all the time," Dr. Warnack said. "Our neurosurgeons, our interventional neuroradiologists, our stroke neurologists – it's an impressive team."
Mr. Frost estimates that his stroke occurred around 3 p.m. By 8 p.m., his family was at his bedside, and he was asking about his grandson's golf game.
"The doctors told me he was talking and doing fine, and that we could see him in the ICU," Mrs. Frost said. "It really is a miracle that he came out of this so well."