St. Paul Hospital recognized by Joint Commission
By Russell Rian, News and Publications, UT Southwestern
The Joint Commission has certified UT Southwestern University Hospital – St. Paul as a Primary Stroke Center, a distinction for hospitals fostering specialized stroke care for patients.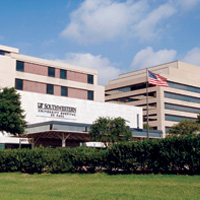 Expertly trained stroke teams of neurologists, imaging specialists, nurses and technicians have ready access to the technology and medications that can limit damage during or after a stroke. Each year about 700,000 people experience a new or recurrent stroke, which is the nation's third-leading cause of death.
"Time and expertise in stroke care are critical factors that dramatically affect the outcome for stroke victims," said Dr. Mark Johnson, associate professor of neurology and one of the team leaders. "Having a trained stroke response team and the dedicated technology and medicine available in the ER allows us to rapidly identify and assess suspected stroke patients. The more quickly and accurately we can diagnose the patient's condition, the sooner proper treatments can get started."
Some medications, for example, need to be administered within a few hours of a stroke's onset in order to be effective, Dr. Johnson added.
A 2010 study in the journal Stroke found that stroke centers following national guidelines recorded fewer fatalities and reduced institutional care a year later compared with general hospitals; had lower mortality rates during a nine-year follow-up; and increased median survival by one year.
UT Southwestern's multidisciplinary cerebrovascular program positions neurologists, neuroradiologists and neurosurgeons with vascular, endovascular and critical-care expertise to treat all forms of stroke and blood-vessel disease affecting the brain and spinal cord, including complex case referrals throughout Texas and the surrounding five-state area.
"Gold-standard stroke therapy begins with comprehensive, personalized care," said neurology chairman Dr. Mark Goldberg, who directs the Beatrice Menne Haggerty Center for Research on Brain Injury and Repair in Stroke. "Patients have the best recovery when they are treated in specialized facilities staffed by expert physicians, nurses and therapists."
Stroke specialists at the medical center pioneered development of some of the most advanced and effective brain aneurysm procedures and technologies in use today, including helping to refine the fast-acting drug tPA to rapidly dissolve blood clots. UT Southwestern's other stroke-prevention procedures include special lasers to connect arteries without stopping blood flow to the brain and a special stent (thin tubular mesh) designed specifically for blood vessels in the brain to prevent further strokes. UT Southwestern has added the Aquilion One dynamic volume computed tomography (CT) scanner, which creates 3-D movies of an organ in real time to quickly diagnose strokes and heart attacks.
Reviewers with expertise in stroke care conducted the on-site certification review in July based on the evaluation of standards, clinical practice guidelines and performance measurement activities from the Brain Attack Coalition and the American Stroke Association.
Certification signifies that UT Southwestern University Hospital – St. Paul's stroke services have the critical elements to achieve long-term success in improving outcomes and that the hospital effectively manages its resources to meet the unique and specialized needs of stroke patients, according to the Joint Commission.
Founded in 1951, the not-for-profit commission evaluates and accredits more than 9,500 hospitals and home care organizations, and provides certification of more than 1,000 disease-specific care programs, primary stroke centers, and health care staffing services.
"This latest distinction further underscores UT Southwestern's status as one of the nation's top stroke treatment facilities and the exceptional efforts made daily by our physicians and caregivers to achieve the best outcome for every patient," said Sharon Riley, vice president and CEO of UT Southwestern University Hospitals.
In U.S. News & World Report's America's Best Hospitals 2010-11, UT Southwestern ranks 28th on the list for neurology and neurosurgery and is nationally ranked in more specialty-care areas than any other health care provider in North Texas. University Hospital – St. Paul also has advanced program certification from the Joint Commission for its ventricular assist device program.

Media Contact: Russell Rian
214-648-3404
russell.rian@utsouthwestern.edu