Special lectures, free screenings for Stroke Awareness Month
Members of the Department of Neurology and Neurotherapeutics are holding several special events in the month of May which has been designated Stroke Awareness Month.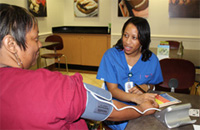 Free blood pressure checks and risk factor screenings will be offered to UT Southwestern employees at different campus locations throughout the month. UT Southwestern Clinical Ladder R.N.s will be conducting the screenings.
Mark Johnson, M.D., head of the Stroke and Cerebrovascular Division, will give a lecture on ischemic stroke to the Assistant Clinical Provider Ladder Group, a UT Southwestern organization of nurse practitioners and physician assistants. Dr. Johnson will present at noon May 17 in the St. Paul University Hospital Auditorium. The Department will provide lunch for the group in honor of stroke awareness.
UT Southwestern will host the North Texas Stroke Coordinators' monthly meeting on May 26. Cyrus Dastur, M.D., Neurocritical Care Faculty, will give a lecture titled "Treatment and Management of the Critically Ill Acute Stroke Patient."
Mandy Dirickson, R.N., M.S., ANP-C will present "Etiology of Ischemic Stroke" as part of nursing grand rounds. Dirickson will speak at 7:30 p.m. May 31 at Zale Lipsy University Hospital. Nurses can sign up for the lecture on MyLearning.