Department gives big send-off to graduating residents and fellows
Department of Neurology and Neurotherapeutics residents and fellows graduated June 9, 2012. Ceremonies were held on North Campus in the T. Boone Pickens Building. Awards and diplomas were handed out while family and friends cheered on the graduates. Faculty member, Dr. Jessica Lee, was honored with the Outstanding Teaching Award (Trephined Cranium Award.) See below for a complete list of honors.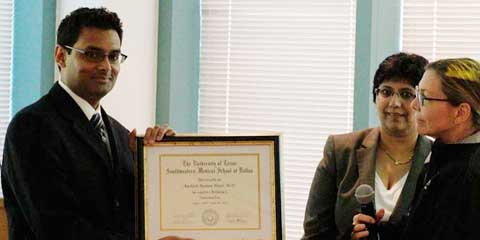 Resident Awards
Resident Teaching Award

Julio Rojas-Martinez, MD

Shin Chien Beh, MD

TEVA Award

1st Place Kartavya Sharma, MD

2nd Place Vibhash Sharma, MD

3rd Place Chirantan Banerjee, MD

Rosenberg Award

Stephen Figueroa, MD

Sami Shah, MD

Rivera/Weisberg Award

1st Place Shin Chien Beh, MD

2nd Place Priyanka Chaudry, MD

Unwin Award

Lauren Phillips, MD

Fred Baskin Award

Shin Chien Beh, MD

Stephen Damm Neuro-Oncology Award

Lauren Phillips, MD
Where are they headed?
Lydia Sharp, MD and Lauren Phillips, MD – Neuromuscular Medicine Fellowship at UT Southwestern
Alan Bates, MD – private practice
Kan Ding, MD – Clinical Neurophysiology and Epilepsy Fellowship at UT Southwestern
Toan Dang, MD – Neurocritical Care Fellowship at Washington University, St. Louis
Priyanka Chaudhry, MD – Headache Fellowship at UT Southwestern
Josh Chien Beh, MD – Neuroimmunology and Neuro-ophthalmology Fellowship at UT Southwestern