Researcher Ann Stowe, Ph.D. authors paper on connection between hypoxia and stroke protection
By Julie Kirchem, Department of Neurology and Neurotherapeutics
DALLAS - May 17, 2011 - Ann Stowe, Ph.D., Assistant Professor in the Department of Neurology and Neurotherapeutics at UT Southwestern, was the lead author of a model paper on how preconditioning the brain to low-oxygen can reduce the detrimental effects of stroke. The paper titled "Repetitive hypoxia extends endogenous neurovascular protection for stroke" was published in the online Annals of Neurology on March 17 and is featured on www.MDLinx.com.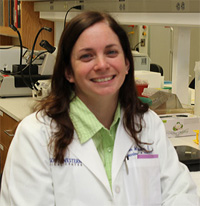 Stowe's postdoctoral research with mentor Jeffrey M. Gidday, Ph.D., Associate Professor of Neurological Surgery, and Ophthalmology and Visual Sciences at Washington University School of Medicine in St. Louis, focused on how long protection from stroke lasts after repeated hypoxic exposures.
"I am currently using this model to understand the immune response following stroke during endogenous neuro-protection," Stowe said.
By pre-conditioning or stressing the brain with hypoxia (i.e. low oxygen) treatments every other day over a two week period prior to a stroke, researchers were able to extend protection from stroke to two months in adult mice.
Stowe continues her research at UT Southwestern into how the brain protects itself before a stroke and how the brain can boost its recovery after a stroke.
Hypoxia treatments are already being used by athletes such as cyclist Lance Armstrong to improve performance but low-oxygen treatments are not practical for the population at-large. Stowe is hopeful her research could lead to a more widespread application.
"There are some drugs out there that mimic hypoxia. There could eventually be a pill that mimics hypoxia that could be used to promote protection for those at risk of stroke," she said.
Stowe received her Ph.D. in Molecular & Integrative Physiology from the University of Kansas Medical Center. She completed a fellowship at the University of Kansas Landon Center on Aging in Neurorehabilitation and a fellowship in Neurophysiology at Washington University in St. Louis.