Lowe Foundation gives $1 million to support Dr. Craig Powell's research on Alzheimer's
The Lowe Foundation has donated $1 million to Southwestern Medical Foundation to establish the Erma Lowe Center for Alzheimer's Disease Research at UT Southwestern Medical Center.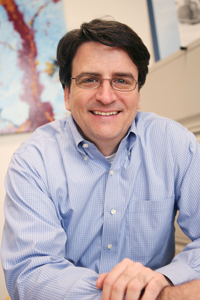 The gift follows a $1 million donation made by the Lowe Foundation in 2008 that created the Erma Lowe Laboratory in Alzheimer's Research and supported the work of Dr. Craig Powell, Associate Professor of Neurology and Neurotherapeutics and Psychiatry. The most recent gift upgrades the Laboratory to a Center.
"I am humbled and honored by the ongoing generosity of this uniquely engaged and intelligent family," said Dr. Craig Powell. "With the creation of the Erma Lowe Center for Alzheimer's research, the Lowe Foundation has ensured their gift will outlast my own laboratory and provide hope for those suffering from cognitive disorders for decades to come."

The Lowe Foundation was established in 1988 by civic leader Erma Lowe and her daughter, Mary Ralph Lowe, who has carried on her mother's commitment to the health and educational needs of women and children. Since its inception, the Lowe Foundation has assisted more than 400 organizations throughout Texas.
Erma Lowe was a dedicated volunteer and philanthropist, known for her tireless efforts on behalf of Cook Children's Medical Center and numerous other charities. She served on the Texas Christian University Board of Trustees and was an honorary trustee for more than two decades.
Her husband, Ralph, was a Texas wildcatter who earned a reputation as one of the state's most respected members of the oil and gas industry. Among his many entrepreneurial enterprises were farming, ranching, real estate, and thoroughbred racing.
"Alzheimer's research is an area upon which we have chosen to focus," said Clayton Maebius, Lowe Foundation trustee and overseer of the Foundation's work for her mother, Mary Ralph Lowe. "We are very impressed with Dr. Powell and want to help him continue his research efforts. We have visited with him two or three times during the past several years and were definitely impressed with his research findings."
A longtime supporter of UT Southwestern, the Lowe Foundation established the Lowe Foundation Center for Women's Preventative Health Care at UT Southwestern in 1999. It also established two professorships: the Lowe Foundation Professorship in Pediatric Neuro-Oncology and the Lowe Foundation Professorship in Pediatric Critical Care Research. The Foundation also supported the Innovations in Medicine campaign with a major contribution to help endow the George N. Peters, M.D., Center for Breast Surgery and to provide support for early detection of breast cancer.
(This article first appeared in the Center Times.)