Neurology resident William Renthal, M.D., Ph.D. awarded AAN Medical Student Prize for Excellence in Neurology
By Dwayne Cox
Reared by a biochemist and a psychiatrist, Dr. William Renthal had but one place to go immediately after graduation from high school in San Antonio: Wall Street. Wall Street?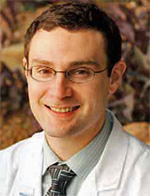 "I did an internship at Prudential Securities after my senior year of high school," recounted Dr. Renthal, 29. "I found out it wasn't for me. There were a few hours of stimulation every day, but I could tell it would not be fulfilling long-term."
Wanting a different career path than his parents, he then went to UT Austin, where he studied philosophy and literature. That led him to UT Southwestern's M.D./Ph.D. program, where he graduates this year with a degree in biochemistry, a Ph.D. in neuroscience, and a medical degree. And he's been awarded the 2011 American Academy of Neurology Medical Student Prize for Excellence in Neurology.
Reconciling his intent as a young student with the reality of what he has achieved isn't a stretch for Dr. Renthal.
"I have a deep interest in the philosophy of the mind, and medical school let me study with scientific tools the relationship between mental states and the neurons that give rise to those states," Dr. Renthal said. "I am all about the brain and how it works."
After completing his residency at UT Southwestern, Dr. Renthal would like to stay connected to academia. "I'm hoping for a mix of research, clinical and teaching," he said. "I'd like to have a basic neuroscience laboratory where I could study the mechanisms of chronic pain. "Pain is something that everyone's brain interprets differently, and that's what I want to learn more about: the physiology of pain and how that relates to the philosophy of the mind."
Dr. Renthal's residency is a match that works on many levels.
"He has an infectious enthusiasm in the neurosciences and a successful early career as a clinician scientist," said Dr. Steven Vernino, residency program director and academic vice chair of neurology. "He was distinguished not only by his achievements as a scientist but also by his professional and compassionate care for his patients. He is destined to become a leader in neurology."
Dr. Renthal's wife, Nora, has a year of graduate school remaining at UT Southwestern, and hopes to match in pediatrics next year. They're parents to 4-year-old Amber and 11-month-old Sawyer. Mrs. Renthal received the Ida M. Green Award this year

"Nora and I are constantly collaborating," Dr. Renthal said. "We love to team up on projects, and one day we'd even like to have a joint lab. We really enjoy working together."

The circuitous journey from Wall Street to Harry Hines Boulevard certainly is not lost on Dr. Renthal. In what little free time he has after meeting academic and parental commitments, he likes to relax by playing guitar, piano – and the market.

"I trade options in my spare time," he said. "Wall Street is unpredictable and everyone has their own logic about when to buy and sell. That's what makes a market, and that's what makes it