Open House welcomes employees and neighbors to new neurology digs
By Julie Kirchem, Department of Neurology and Neurotherapeutics
DALLAS - Dec. 8, 2011 - The Department of Neurology and Neurotherapeutics welcomed employees to an Open House November 30 at the Biomedical Research Building (NL) on North Campus.
Some neurology faculty, staff, and administrators including department chair, Dr. Mark Goldberg, recently moved into new lab and office space on the 9th and 10th floors of the building.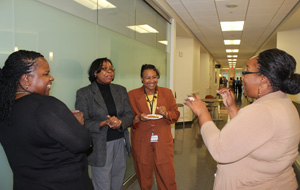 The open house was organized by a committee of neurology employees including Layla Bushnell, Amber Hewitt, Karey Johnson, Charlotte Bentley, Hillery Gray, Daisi Tucker, Ann Stowe, Wathen Strong, and Erin Shubel.
"It was a way to meet our new neighbors in the building and to have everyone from the department see the new research space," said Ms. Bushnell.
The NL building, located at 6000 Harry Hines Boulevard, has a contemporary design and offers state-of-the-art laboratories.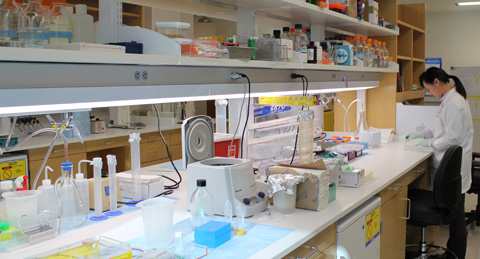 Approximately twelve faculty members have offices and labs there. See more photos of the Open House and Biomedical Research Building (NL).