Neurology Clinic at Aston expands to accommodate new neurology services and faculty
By Julie Kirchem, Department of Neurology and Neurotherapeutics
DALLAS - Jan. 27, 2012 - Patients and physicians will soon notice a welcome change at the Neurology Clinic in the Aston Building. The clinic will be adding square footage to accommodate additional faculty and patient services.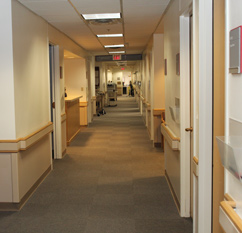 "Our volume has been increasing and is expected to continue to grow, so this new space will help with patient flow," said Lewis Garrison, Manager of the Neurology Clinic.

The clinic is able to add on office space because the neurosurgery clinic next door recently relocated. Neurology will grow by approximately 3,000 square feet.

"After a little reconfiguration and touch up, we will have 33 percent more rooms for patient evaluation," said Dr. Padraig O'Suilleabhain, Medical Director of Ambulatory Neurology. "The rest of Aston's 4th floor will be used for clinical research by members of our department."

Several new staff joined the clinic including Drs. Pravin Khemani, Movement Disorders Specialist, and Joseph Vaughan, General Neurology Specialist, as well as Sherece White, FNP, and Cathy Gichema, APRN. In addition, Dr. Deborah Friedman will be director of UT Southwestern's first headache clinic scheduled to open in the coming months.