Neepa Patel, M.D., joins UTSW movement disorders team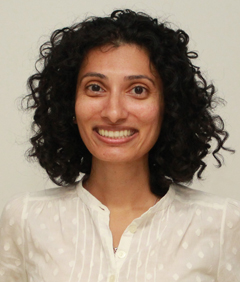 Dr. Neepa Patel's interest in neurology was sparked by a simple observation.
"By paying attention to how someone walks, for example, you could make a diagnosis," she said. "I was fascinated with how a very small part of the brain controls what we do."
Dr. Patel, Assistant Professor of Neurology and Neurotherapeutics, recently completed a two-year fellowship in movement disorders at Baylor College of Medicine in Houston.
She is originally from Michigan where she attended medical school at Wayne State University. She completed her neurology residency at Boston University Medical Center.
During her fellowship training, Dr. Patel was involved in several clinical trials and wrote book chapters and review articles.
"Dr. Patel brings a background of excellent clinical and research training, compassion and dedication for patient care," said Shilpa Chitnis, M.D., Ph.D.. "She also has a special interest in medical management and deep brain stimulation for hyperkinetic movement disorders."
Dr. Patel is looking forward to growing her practice at the neurology clinic and working with the movement disorders group.
"UT Southwestern is a great fit for me because I wanted to join an already established group where I could develop a niche," she said.
Dr. Patel hopes to take part in community outreach and education.
"I am ready to start seeing patients. I most enjoy the strong relationships that can develop between patient and a physician."