Mehari Gebreyohanns, M.D., will lead stroke outreach and telestroke program
By Julie Kirchem, Department of Neurology and Neurotherapeutics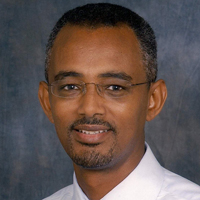 Since completing a fellowship in vascular neurology in 2005 at the Medical College of Georgia, Dr. Mehari Gebreyohanns' career path has drawn him closer and closer to UT Southwestern Medical Center. His first job brought him to Wichita Falls, Texas, where he established a primary stroke center at United Regional Medical Center. The proximity to Dallas-Fort Worth was the first connection to UT Southwestern.
"UT Southwestern was a transfer hub for many of our patients requiring a higher level of care," Dr. Gebreyohanns said.
After five years as director of United Regional Medical Center, Dr. Gebreyohanns moved to the metro area to take a position as a full-time neurohospitalist in Arlington. It was yet another connection to UTSW since he sometimes interacted with UT Southwestern neurology and neurosurgery staff during the care of stroke patients.
"This working experience gave me an up-close appreciation for the high quality research, teaching and state of the art medical care provided by UT Southwestern," he said.
In August 2012, Dr. Gebreyohanns became part of the staff when he accepted a position as Assistant Professor of Neurology and Neurotherapeutics.
"I joined the neurology department to enrich my experience by working with the highly experienced, talented faculty and to share my experience from outside with residents and students," he said.
In addition to teaching and clinical duties, Dr. Gebreyohanns has taken the reins of a new department initiative.
"Another exciting task that I have accepted is to have a leading role in the launch of the telestroke service and outreach to surrounding hospitals in and around the DFW community," he said. "I believe the telestroke service will provide quicker and easier access to stroke treatment for communities who do not have the resources to provide acute stroke care in a timely fashion. "
The UT Southwestern telestroke program made its debut this month with doctors at St. Paul University Hospital using the service to communicate with stroke faculty at Zale Lipshy University Hospital.
"This will also help UT Southwestern to maintain its highly esteemed position when it comes to providing high quality medical care," he said.