Neurology clinic nurse Mathews Mathew receives Meritorious Service Award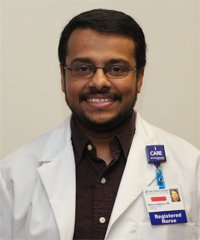 Mathews Mathew, R.N., an epilepsy case management nurse in the neurology clinic, has been recognized with a UT Southwestern Meritorious Service Award.
"I feel thankful and encouraged by the award and very glad to be part of this great team," Mathew said.
The award is given to a select few employees across campus. Mathew was nominated by Jane McDaniel, R.N., nurse supervisor for the neurology clinic.
"I thought he deserved the award because of his dedication to improving patient care and his willingness to always help out in the clinic wherever he may be needed," McDaniel said.
As part of the Clinical Services Initiative, UT Southwestern recognizes exceptional clinic employees with a $500 special "Meritorious Service" award. The award is based on an employee's demonstration of the PACT Service Standards. PACT stands for Problem Solving, Attitude, Compassion, and Teamwork.
Clinic Manager Lewis Garrison and Medical Director Padraig O'Suilleabhain, MD, said clinic neurologists consider Mathews a valued resource, and he is often handpicked by clinical staff to assist with complex medical and patient issues.
"Physicians always tell me how much they appreciate what he does," McDaniel added.
For Mathew, doing an award-winning job comes easy because he loves what he does.
"My favorite part of my job is the people I work with," he said. "I'm proud to work at UT Southwestern because of its service to the community and great reputation."