Mark J. Alberts, M.D., named Clinical Vice-Chair for Department of Neurology and Neurotherapeutics
By Julie Kirchem, Department of Neurology and Neurotherapeutics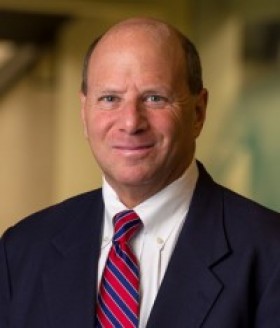 Mark J. Alberts, M.D., FAHA, will lead the Department of Neurology and Neurotherapeutics' efforts to expand clinical research and patient care as the Department's new Vice-Chair for Clinical Affairs.
Dr. Alberts was most recently the director of the stroke program at Northwestern Memorial Hospital in Chicago, Illinois, where he built the program from the ground up.
"We went from no stroke center to being a primary stroke center. We also went from having no stroke unit to a 10-bed stroke unit," he said. Dr. Alberts was also involved in the growth of neurocritical care at Memorial Hospital.
Dr. Alberts' name is well known in the field of stroke care and research. He has worked closely with the Brain Attack Coalition for many years and was integral in developing criteria for primary and comprehensive stroke centers with that organization.
"Professionally, I can honestly say, my work with the BAC in terms of primary and comprehensive stroke centers has been the most gratifying professional work for me," said Dr. Alberts. "We've affected stroke care on a daily basis for millions of people throughout the world."
Dr. Alberts is also a fellow with the American Heart Association and serves as a volunteer expert and spokesman on stroke. While his clinical emphasis has been on vascular disease, he points out that as Vice-Chair, he will be serving the entire department as he strives to raise the profile of clinical care and research across all specialties.
"There is an excellent research infrastructure here already," he said. "Now we need to identify more clinical research opportunities and increase our NIH funding for translational research."
Dr. Alberts says the first step will be to establish an organized and rigorous approach to evaluating potential clinical research.

"We can't do it all so we need to be careful about the programs we pick," he said. "We need to ask questions such as does it have scientific merit, do we have the patient population, do we have the infrastructure to do this?"
Dr. Alberts brings his experience creating and leading successful programs to the Department of Neurology and Neurotherapeutics and will work closely with chair Dr. Mark Goldberg to grow the Department.
"One of the things I would like to build up in this department is the multi-disciplinary culture," he said. "Providing medical care is a complex, multi-disciplinary task."
Listen to Dr. Alberts in an interview on KERA about how to tell if someone's garbled text message could be a sign of stroke.