Joyce Mohler, Education Coordinator for residency and fellowship programs, retires after 20 years of service
For more than 20 years, Joyce Mohler was the heart and soul of the neurology department's mission to train future neurologists.
During her tenure as Residency Program Coordinator for the Neurology Residency Program, Joyce assisted dozens of residents from the time of their residency application as medical students through their years of neurology training into fellowship training and out into their lifetime careers.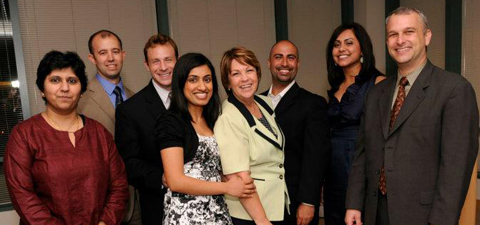 "Joyce was more than just an administrator for the program, she was a mentor and guide for these young doctors on their journey toward become neurologists," said Dr. Steven Vernino, Academic Vice-Chair and Neurology Resident Program Director. "She was the foundation of the program, and showed great attention to all the little details that make a program run smoothly."
Alumni remember Joyce fondly as an invaluable part of their experience as residents and fellows.
"She was such a warm and kind person. Everyone loved her," said Dr. James Armstrong. "I was amazed at how she was able to take care of so many different things at the same time."
From application to completion, Joyce was the backbone of the program," said Dr. Alpa Shah. "Joyce was knowledgeable, systematic and helpful to everyone. She will be hard to replace."
During her two decades as education coordinator, the number of residents in the program nearly doubled as the Department of Neurology and Neurotherapeutics grew in size and national stature. Recruitment was a large part of her job, but it didn't end once the new residents started their training. Joyce ensured that the expectations for the residents and fellows remained high.
Angela Flores-Bates, M.D., was Chief Resident in 2007 and remembers how important Joyce was to her success in the program.
"Being chief resident, there were a lot of administrative tasks, scheduling, for example, and Joyce was always a very positive welcoming person which is very helpful when you are in the midst of residency training," said Dr. Flores, Assistant Professor of Neurology and Neurotherapeutics.
Dr. Padraig O'Suilleabhain, who worked with Joyce as residency director before Dr. Vernino, says she was a source of great stability for the program and was key to its growth.
"She was always cheerful, organized, and straightforward," he said. "Joyce was very generous and accommodating to the hundreds of applicants and residents she has helped."
Joyce retired at the end of May and leaves behind some big shoes to fill. In addition to the residency program she was also education coordinator for the neurology fellowship programs (and also looked after the needs of most of the faculty.)
"Joyce was a huge resource for the residents and will be missed," said Dr. Flores.