Movement disorders specialist, Dr. Pravin Khemani, joins department
By Julie Kirchem, Department of Neurology and Neurotherapeutics
DALLAS - July 20, 2011 - A former UT Southwestern resident and fellow has returned to the Department of Neurology and Neurotherapeutics to take a position on the faculty. Dr. Pravin Khemani joined the Movement Disorders Division in July as an Assistant Professor.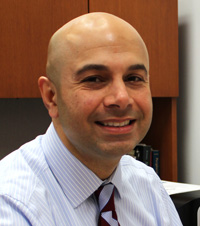 Dr. Khemani completed his neurology residency in 2003 followed by a fellowship in neuromuscular disorders at UT Southwestern. He was in private practice for several years, and then joined the faculty as an Assistant Professor at Stanford University where he also did a fellowship in Movement Disorders.
Dr. Khemani says there were several positives about UT Southwestern that helped him to decide to return.
"This is a very dynamic Movement Disorders program and the Neurology Department as a whole has grown tremendously both from research and clinical perspectives," Dr. Khemani said.
"Also, UT Southwestern has a very good reputation amongst movement disorders and neuromuscular specialists," he said.
Dr. Khemani will work in the Movement Disorders Clinic as well as teach residents, fellows, and medical students.
His clinical interests include Parkinson's disease, Ataxia, balance disorders, deep brain stimulation, and treatment of dystonia and spasticity with botulinum toxin. He hopes to build up a balance and falls prevention program and bring value to the excellent botox and deep brain stimulation clinics at UT Southwestern.
"I hope to realize the department's and the University's missions of providing the best patient care possible while seeking new frontiers in clinical medicine and research."