Dr. Mary Quiceno awarded SAGE grant for geriatric education video
By Julie Kirchem, Department of Neurology and Neurotherapeutics
DALLAS - April 21, 2011 - Mary Quiceno, M.D., has been awarded a grant from the Southwestern Aging and Geriatric Education (SAGE) Program. Dr. Quiceno is an Assistant Professor in the Cognitive and Memory Disorders Division and directs the educational activities of the Alzheimer's Disease Center. Barb Davis, Clinical Research Coordinator with the ADC, will recruit participants for the video.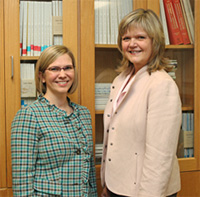 Three $10,000 curriculum development grants are awarded annually to UT Southwestern faculty to improve physician training in geriatrics for medical students. The grants are part of a nearly $2 million award to UT Southwestern from the Donald W. Reynolds Foundation. Faculty members from specialties with an interest in geriatrics were asked to submit proposals to the SAGE leadership team.
Dr. Quiceno and Barb Davis will use the $10,000 award to create an educational video for medical students.
"I wanted to use it to help educate trainees in assessing cognitive changes in the elderly," she said.
Dr. Quiceno plans to create a video that includes different scenarios in which trainees will be able to see elderly people who are cognitively intact, mildly impaired, or demented. The video will also include interviews with patient and caregiver, show typical bedside screening tests, and demonstrate administration of tests such as the mini- mental status exam.
Dr. Quiceno's goal is to help medical students administer the test, interpret the results, and give an accurate diagnosis. Properly administering tests and interpreting the results has taken on an even greater importance because of changes in Medicare policies. Starting in 2011, Medicare is mandating a preventative wellness exam that includes cognitive testing for the detection of impending dementia and Alzheimer's disease.