History of Neurology

UT Southwestern Department of Neurology 1973–Now



The UT Southwestern Department of Neurology has a long and distinguished history of achievement in teaching, career development, residency and fellowship training, as well as outstanding patient care. Mark Goldberg, M.D., became Chair of Neurology at UT Southwestern in July 2010.
In 1973, Roger N. Rosenberg, M.D., became the first Chair of an independent Department of Neurology to establish comprehensive clinical-teaching services at five hospitals and extensive laboratory-based research programs covering all of the major disciplines of neurology. During his 18 years as chair, Dr. Rosenberg established the presence of neurology at Parkland Memorial Hospital, the Dallas Veterans Administration Hospital, the Scottish Rite Hospital for Children, Children's Medical Center, and subsequently at UT Southwestern'sZale Lipshy University Hospital.
Under Dr. Rosenberg's leadership, the Residency Program was approved by the American Board of Psychiatry and Neurology in 1974 and has remained in continuous good standing ever since. The first class of four residents began training in July 1974, and the Adult Residency Program increased to a total of 15 residents (five per year). A residency program in pediatric neurology was also approved and post-residency fellowship programs were initiated. In addition, a clerkship for junior and senior medical students was incorporated into the clinical services at the five hospitals. Dr. Rosenberg oversaw the growth of the department to 25 neurology faculty covering all major neurological subspecialties.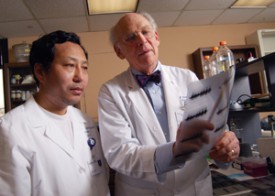 In 1987, an NIH-funded Alzheimer's Disease Center was established, and Dr. Rosenberg has served as its director since its inception. Research laboratories for the faculty were established in the Moss Clinical Science Building in 1990. Neurology established clinical services in the Zale Lipshy University Hospital in 1990.
In 1997, Dr. Rosenberg became editor-in-chief of the Archives of Neurology, a position he continues to hold. Under his direction, the Archives has become one of the premiere journals in clinical and academic neurology with a steady increase in the journal's impact factor. Dr. Rosenberg continues to be a vital part of the UT Southwestern Neurology Department through his expert teaching of residents, his research efforts through the Alzheimer's Disease Center, and his sense of direction for the department.
Dr. Cliff Schold served as Department Chair and the Dorothy Rogers Cullum Distinguished Chair in neuro-oncology from 1992 to 1998. He coordinated several large-scale federally funded clinical studies in neuro- oncology, as well as the university's first gene therapy trial for glioblastoma. Dr. Schold is currently the Director of the University of Pittsburgh Cancer Institute Neuro-Oncology Program. Dr. Richard Barohn then served as acting Chair from 1998 to 2000 before becoming Chair of Neurology at the University of Kansas.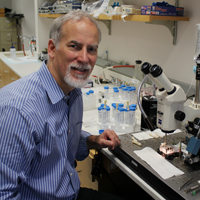 In 2002, Steve Cannon M.D., Ph.D., was appointed Professor and Chair of Neurology. While Chairman, he continued to develop and expand the educational, research, and clinical goals of the Department. The faculty increased to 35 full-time members, many of whom direct independent, externally-funded research laboratories. The Department expanded to feature a world-renowned Multiple Sclerosis Clinical Center under the direction of Elliot Frohman, M.D., and new departmental research space (20,000 square feet) on the North Campus of the Medical Center.
Dr. Mark Goldberg, formerly of the Washington University School of Medicine in St. Louis, succeeded Dr. Cannon, who was named Associate Dean for Undergraduate Medical Education, Basic Sciences. Dr. Goldberg became Chair of Neurology at UT Southwestern Medical Center in July 2010. He holds the Linda and Mitch Hart Distinguished Chair in Neurology at UT Southwestern.
Dr. Goldberg was the founding director of Washington University's Hope Center for Neurological Disorders, a campus-wide initiative promoting research on brain diseases of children and adults. At the Hope Center, Dr. Goldberg brought together researchers and clinicians from many specialties to work on complex nervous-system disorders. He plans to take the same interdisciplinary approach at UT Southwestern.
"UT Southwestern has long been a pioneering institution for brain science. We have the opportunity to develop collaborative research initiatives that move these advances to patient care."
We look forward to training the next generation of neurologists and academic leaders as we continue to pursue and solve important problems in neurological disease.