Chairman's Welcome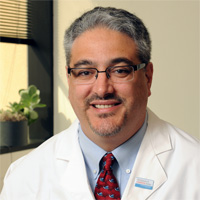 Neurology at UT Southwestern Medical Center became an independent department in 1966. The initial growth of the Department and development of the residency program were under the leadership of Roger Rosenberg, M.D., who served as chairman for 18 years. In 2002, Steve Cannon, M.D., Ph.D., was appointed Professor and Chairman of Neurology. Under Dr. Cannon's leadership, the Department continued to develop and expand its educational, research, and clinical goals. Mark Goldberg, M.D., was appointed Department Chair in July of 2010. Read more about the history of neurology at UT Southwestern.
Under Dr. Goldberg's leadership, UT Southwestern's Department of Neurology launched a new initiative to seek effective treatments for brain diseases. In recognition of this mission, the department has been renamed the Department of Neurology and Neurotherapeutics, the first program in the country to be identified this way.
The Department of Neurology and Neurotherapeutics is building state-of the-art facilities for drug and device testing, and bringing current and new faculty together for collaborative research on brain disease therapy. Scientists will leverage historic institutional strengths in molecular biology, genetics, and neuroscience. Our mission is to advance therapies for neurological disorders through scientific discovery and the training of future generations of neurologists.
Our research effort has grown steadily, starting from the establishment of an NIH-funded Alzheimer's Disease Center and expanding to include a National Multiple Sclerosis Training Center and NIH-supported research in neuroimmunology (MS), neurodegeneration in ALS, risk factors for dementia, spinal muscular atrophy, disorders of cellular excitability, and stroke. Clinical research in the Department and collaborative studies with the pharmaceutical industry have provided cutting-edge innovative treatment opportunities to our patients and have helped define the standard of care for stroke, MS, myasthenia gravis, neuropathy, epilepsy, Parkinson's disease, brain tumors, spinal cord injury, and other neurological disorders.
The Department currently has a faculty of 13 clinicians, 26 clinician-scientists, and 15 researchers in basic science, all with primary academic appointments in Neurology and Neurotherapeutics. This collaborative team is distributed across clinical and laboratory sites at the medical school campus and affiliated centers at Children's Health, Children's Medical Center, Texas Scottish Rite Hospital, Presbyterian Hospital, and the Dallas Veterans Affairs Medical Center. We provide state-of-the-art diagnosis and treatment of epilepsy, multiple sclerosis, stroke, movement disorders, neuromuscular disorders, dementia, spinal cord injury, and brain tumors.
Sincerely,
Mark Goldberg, M.D.
Professor and Chair, Department of Neurology and Neurotherapeutics