Student Interest Group in Neurology (SIGN)
Medical students who want to learn more about neurology can join UT Southwestern Medical Center's chapter of the Student Interest Group in Neurology (SIGN). SIGN gives medical students exposure early in their training to clinical and research aspects of the neurosciences that they might not get in the classroom.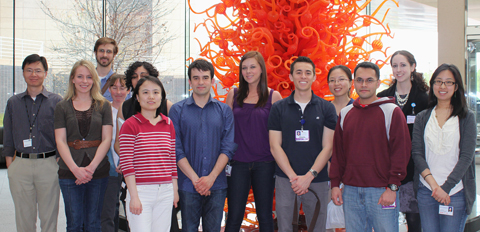 Every spring, SIGN organizes a series of events for Brian Awareness Week. It's just one of the things that the group does to bring students closer to the real world of neurology.
Shilpa Chitnis, M.D., Ph.D., and Puneet Gupta, M.D., are SIGN's faculty sponsors. Dr. Gupta was a member of SIGN when he attended UT Southwestern.
"[SIGN] definitely was an integral part of my education and helped me decide which field in the neurosciences to pursue. I was also able to find a mentor and a research project through SIGN."

Puneet Gupta, M.D.
SIGN Advisor
SIGN holds monthly meetings and an annual series of events for Brain Awareness Week. The group also promotes local academic neurology conferences, charitable events, and neurology talks. For more information, or if you would like to participate in SIGN as a lecturer or a member, please contact Dr. Puneet Gupta, SIGN faculty advisor (puneet.gupta@utsouthwestern.edu).