Headache Medicine Fellowship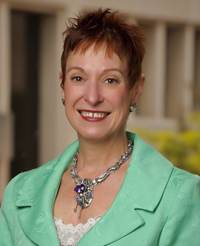 The Headache and Facial Pain Fellowship Program, under the directorship of Deborah I. Friedman, M.D., M.P.H., opened its doors for patient care in 2012. We offer a one-year fellowship which is accredited by the United Council for Neurological Subspecialties (UCNS).
Our Fellowship Program is multidisciplinary with partners in Sleep Medicine, Pain Management, Pediatric Neurology, Oromaxillofacial Surgery, Physical Therapy, Psychology, Obstetrics and Gynecology, and Plastic Surgery.
We are one of only a few resources available in North Texas to treat patients with complex headache disorders and have established our program as a regional leader in headache medicine with referrals from throughout the southwestern United States.
Training
Fellows will receive a comprehensive experience in outpatient, infusion center, and inpatient headache and facial pain management, and will become proficient in procedures used in the treatment of headache patients (i.e., chemodenervation, peripheral nerve blocks).
The Neurology Clinic at the James W. Aston Ambulatory Care Center houses the outpatient offices and the infusion center. The inpatient service is located at Zale Lipshy University Hospital. Fellows are involved in clinical research and receive support to attend at least one national headache medicine meeting yearly. There is a weekly teaching conference and the fellow accompanies the attending to supervise the resident neurology clinic at Parkland Memorial Hospital where many patients have headache disorders. The fellow will also see neuro-ophthalmology patients on one half-day weekly to become familiar with the examination techniques and learn about disorders that overlap the two disciplines.
Eligibility
Applicants must have completed three years of an accredited neurology residency, and be either Board-certified or Board-eligible in neurology. Successful applicants must be able to obtain medical licensure in Texas.
How to Apply
Applicants should send a completed application, curriculum vitae, a letter describing your long-term career goals and your goals for the fellowship, and three letters of recommendation to:
Deborah I. Friedman, M.D., M.P.H.
5323 Harry Hines Blvd.
Dallas, TX 75390-9036 (9-digit ZIP is required)
Contact
deborah.friedman@utsouthwestern.edu
Phone: 214-648-3517
Fax: 214-648-8540