Meet the Chair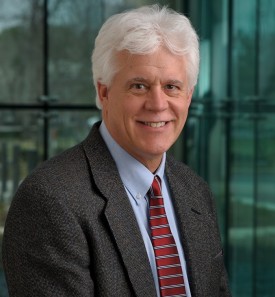 Eric N. Olson, Ph.D.
Professor and Chair, Department of Molecular Biology
Director, Nancy B. and Jake L. Hamon Center for Basic Research in Cancer
Director, Nearburg Family Center for Basic and Clinical Research in Pediatric Oncology
Endowed Chairs and Professorship:
Robert A. Welch Distinguished Chair in Science
Annie and Willie Nelson Professorship in Stem Cell Research
Pogue Distinguished Chair in Research on Cardiac Birth Defects
Degrees
| | |
| --- | --- |
| 1973-1977 | B.A. Chemistry and Biology, Wake Forest University, Winston-Salem, NC |
| 1977-1981 | Ph.D. Biochemistry, Bowman Gray School of Medicine, Wake Forest University |
| 2003 | Honorary Doctorate, Wake Forest University |
Selected Honors
| | |
| --- | --- |
| 1998 | Fellow, American Academy of Arts and Sciences |
| 1998 | Edgar Haber Cardiovascular Medicine Research Award, American Heart Association |
| 1999 | American Heart Association Basic Research Prize |
| 1999 | Gill Heart Institute Award for Outstanding Contributions to Cardiovascular Medicine |
| 1999 | Elected to U.S. National Academy of Science |
| 2000 | Pasarow Foundation Award in Cardiovascular Medicine |
| 2000 | NIH, MERIT Award |
| 2001 | Elected to the Institute of Medicine of National Academy of Sciences |
| 2001 | Bristol-Myers Squibb "Freedom to Discover" Unrestricted Research Award |
| 2003 | Founding Distinguished Scientist Award, American Heart Association |
| 2003 | Louis and Artur Lucian Award for Research in Cardiovascular Diseases, McGill University |
| 2005 | Outstanding Investigator Award, International Society for Heart Research (ISHR) |
| 2005 | Pollin Prize in Pediatric Research, Columbia University |
| 2008 | American Heart Association Research Achievement Award |
| 2009 | LeFoulon Delalande Grand Prix Award (Institut de France and French Academy of Science) |
Short History
After receiving his Ph.D. and training as a postdoctoral fellow in the Department of Biological Chemistry at Washington University in St. Louis, Dr. Olson got his first faculty position in 1984 at UT MD Anderson Cancer Center in Houston. While in Houston, Dr. Olson began studying how cells differentiate into their specialized, mature forms, and decided to use muscle cells as the basis of his research. In 1991, at age 35, Dr. Olson became Chair of Biochemistry and Molecular Biology at MD Anderson.
After four years in the position, Dr. Olson moved to UT Southwestern in 1995 to establish a new Department of Molecular Biology. "I like building things," he said. "My goal in coming to Dallas was to build a department that was interesting and fun, where people would share common interests but not necessarily work on the same scientific problems."
Olson Lab
The Olson Lab studies muscle cells as a model for understanding how embryonic cells adopt specific fates and how programs of cell differentiation and morphogenesis are controlled during development. There are three major muscle cell types: cardiac, skeletal and smooth, which express distinct sets of genes controlled by different combinations of transcription factors and extracellular signals. The lab has focused on discovering novel transcription factors that control development of these muscle cell types as well as their remodeling in response to cardiovascular and neuromuscular diseases. The processes involved in muscle development are evolutionarily ancient and conserved across diverse organisms.

This conservation has enabled the Olson lab to take a cross-species approach to dissect this problem by identifying myogenic regulatory genes in the fruit fly as well as in vertebrate embryos. Recently, the Olson lab has begun exploring the roles of microRNAs in the control of muscle development and disease. The longterm goal of the Olson lab is to delineate the complete genetic pathways for the formation and function of each muscle cell type and to use this information to devise pharmacologic and genetic therapies for inherited and acquired muscle diseases in humans.
The Olson lab is made up of an international team of students and postdoctoral fellows. They also have a group of highly-skilled research associates, who provide continuity to the lab and the technical infrastructure that facilitates discovery. The lab emphasizes creativity, collaboration and camaraderie. The lab has fun together and celebrates the group's success. The lab provides a supportive and challenging environment for students. Postdoctoral fellows in the Olson lab are encouraged to develop their own independent projects, which they eventually take with them to serve as the foundation of their own laboratories. Many former students and postdocs from the Olson lab are emerging as the next generation of leaders in cardiovascular medicine.
Dr. Olson has co-founded two biopharmaceutical companies with colleagues in Colorado. The first, Myogen, which has since been acquired by Gilead Therapeutics, focused largely on developing drugs to treat heart failure. After Myogen, Dr. Olson went on to co-found miRagen Therapeutics, which is dedicated to developing drugs from microRNAs.
In his spare time Dr. Olson plays guitar and sings with a classic rock/blues/funk band called, appropriately enough, The Transactivators, inspired by the Texas icon Willie Nelson, who created the Professorship that Olson holds.