A Message from Zubair Syed, M.D., Program Director
What a great time in your life!
The decision you make about where to do your residency training is likely the most important decision of your career – or your life. With all the changes in medicine, and in medical education, choosing is a challenge. I hope this letter is a start to getting you all the information that you would need to decide whether your goals can be met by the UT Southwestern Family Medicine Residency Program.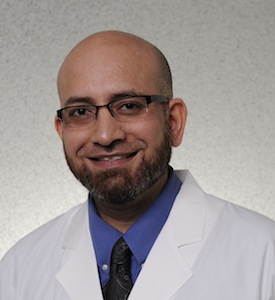 UT Southwestern Medical Center, one of the premier medical centers in the nation, integrates pioneering biomedical research with exceptional clinical care and education. Its more than 1,500 faculty members – including six Nobel Prize winners, more than any other medical school in the world – are responsible for groundbreaking medical advances and committed to translating science-driven research quickly to new clinical treatments. UT Southwestern physicians provide medical care in 40 specialties to nearly 92,000 hospitalized patients, oversee more than 2 million outpatient visits, and train more than 4,500 students, residents, and fellows each year.
The UT Southwestern Family Medicine Residency is unique, offering the best of both the community and university hospital settings for your learning. Residents train in Parkland Memorial Hospital, Children's Health℠ Children's Medical Center, and William P. Clements Jr. University Hospital as well as numerous outpatient opportunities in the community. In this way, the graduates learn in both the intense training environment of teaching hospitals and in the real world of the community. The Program's diverse faculty includes nine board-certified Family Physicians.
We offer 10 positions only through the match each year to engage in a curriculum emphasizing self-directed learning in the context of the new model of Family Medicine. Required rotations that meet the requirements for residency are structured to maximize your patient contact, learning, and skill acquisition, but minimize time away from your family. The Program offers the maximum amount of elective time, including some in the second academic year. The high volume and full scope of specialty care available for teaching at Parkland combined with close contact with a large, active Family Medicine faculty makes designing your learning experience easy.
We look forward to meeting you and filling in many more of the details about our unique program. We are the one in the heart of the Medical Center, but with a community focus.
Sincerely,
Assistant Professor and Program Director