Program Year 3
Hafsa Akram M.D.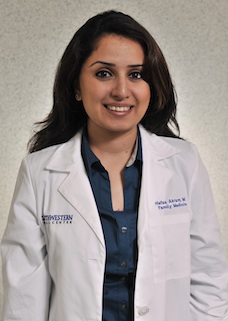 Hometown/Medical School: Roanoke,VA/Shifa College of Medicine
About Me: I grew up in Pakistan and recently moved to America. I would describe myself as a person who loves to travel, try good food, listen to good music, and spend time with friends and family.
Why UTSW Family Medicine: I chose UT Southwestern because of its position as a strong academic training institution while also providing community-based experience.
Post-Residency Plan: After I finish my residency I would like to work in an outpatient-based group practice while pursuing fellowship opportunities.
Chong (Joy) Yon Yun, M.D.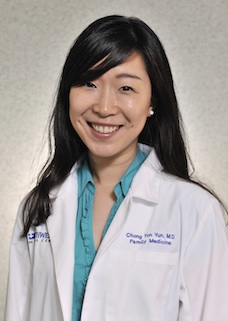 Hometown/Medical School: Wright State University School of Medicine
About Me: I was born in Seoul, South Korea, and immigrated to the U.S. when I was 6 years old. I went to grade school in Alabama, high school in Ohio, college at The University of Chicago, and medical school at Wright State University in Dayton, OH. I've always had an affinity for music (piano since age 3, singing, bassoon, trombone, and drum line in marching band) so I naturally became a music major in college while pursuing a pre-med track. I also LOVE food (eating and cooking/baking) and am always in search for the best restaurants wherever I go! To offset my eating habits, I like to run, do yoga, and my favorite, ZUMBA!
Why UTSW Family Medicine: I knew I wanted to be near my family who made a major move from Ohio to Denton, TX, last year. So, I did several away rotations in the DFW area and liked UT Southwestern the best! The teaching was superb, the people were warm, and the Residency Program had a strong focus on clinical medicine while simultaneously offering a wide breadth of academic opportunities.
Post-Residency Plan: I hope to be practicing in a community clinic and partaking as part-time faculty in an academic setting while serving in medical mission trips on a regular basis.
R. Isela Machado, M.D.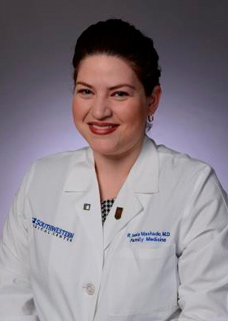 Hometown/Medical School: Nogales, AZ/Loyola University Chicago-Stritch School of Medicine
About Me: I enjoy interacting with patients and my peers. When I am not at work I enjoy spending time with my family and cooking delicious meals.
Post-Residency Plan: After graduation, I plan to focus on women's health.
Kennex Munez, M.D.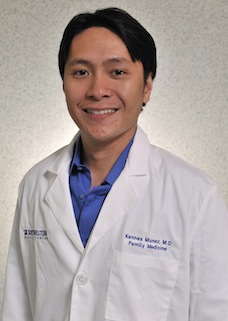 Hometown/Medical School: Cebu, Philippines/Cebu Doctors' University College of Medicine
About Me: In my spare time, I play basketball, tennis, and video games. I'm also fond of photography, travel, and mixed martial arts. Most of all, I enjoy spending time with my family and friends (and my dogs): hiking, biking, dining, or watching movies.
Why UTSW Family Medicine: I chose the UTSW Family Medicine Residency Program because of its excellent academics, research, and clinical training – among the nation's best. It offers the exposure and learning environment of both a university and a community hospital. Moreover, I chose this Residency Program because of the people in it: a dedicated and approachable faculty; and a friendly and supportive staff and residents. With these qualities, potential is great for learning and mastery of skills needed for one to be a well-rounded, exceptional family physician.
Post-Residency Plan: I haven't yet decided what to do after residency but I am considering a geriatric medicine fellowship.
Rathna Nuti, M.D.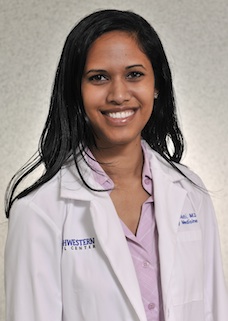 Hometown/Medical School: Plano, TX/Texas Tech University Health Sciences Center
About Me: Growing up I moved around the country and finally ended up in Plano. I have loved being in the D/FW metroplex and experiencing everything that the region has to offer. I graduated from Austin College with a B.A. in biochemistry and psychology. My liberal arts education has helped me not only to communicate and interact with various people from many different cultures, but also understand my patients and their various backgrounds that they come from. I graduated from TTUHSC-SOM in 2013 and moved back to Dallas for residency. I couldn't be happier to be back in my hometown amongst my family and friends. During my free time, I am usually at the gym or hanging out with my family and friends doing various things around DFW.
Why UTSW Family Medicine: I chose the UTSW Family Medicine Program because of the various opportunities it has to offer while in training. My experience here has been nothing but wonderful. The faculty are supportive and nurturing while challenging my intellect and continue to push me to become my best.
Post-Residency Plan: After graduation, I plan on either pursuing a fellowship in sports medicine or joining a practice where I can continue to expand upon my skills and knowledge.
Nadeen Saleh, M.D.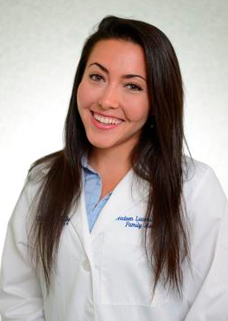 Hometown/Medical School: Arlington, Texas/St George University
About Me: I was born in El Paso, TX, but have resided in Arlington, TX, for most of my life. I attended college at UNT and shortly after obtaining my bachelors in biology, I started medical school at St George University. I enjoy traveling and had an opportunity to incorporate traveling into my medical school curriculum. I spent two years in Grenada and two years in the NY/NJ area, as well as several weeks in Prague and Thailand during the summers. I completed my internal medicine intern year at the University of Mississippi and transferred into family medicine as a PGY-2 this year. I am now back home and look forward to the new chapter in my life as a family medicine physician.
Why UTSW Family Medicine: I knew that I wanted to be in a family medicine program that offered me excellent clinical exposure and would prepare me well for my future in private practice. UTSW has a great reputation and is very well known in the medical community. It's location in the Dallas area also allowed me to be close to family and friends. Therefore, UTSW Family Medicine was the ideal residency program for me.
Post-Residency Plan: I plan to start my own practice after graduation in the DFW area.
Jessica Rubino, M.D.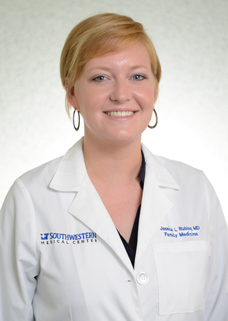 Hometown/Medical School: Chicago area by way of Detroit area/Southern Illinois University School of Medicine in Springfield, IL
About Me: I was born and initially raised in Michigan, then relocated to the Chicago area. I went to college in Jacksonville, Illinois, and received my B.S. in biology/chemistry and Spanish. I went to medical school in the capital of Illinois, then took a year off to work on my M.P.H. in health policy and law at Loyola University. I started my family medicine residency in Chicago, IL, and then transferred at the start of my second year to UTSW. My partner and his kids live in Austin, TX, so I find myself there frequently.
Why UTSW Family Medicine: I was hoping to move to Texas after my first year in residency to be closer to my significant other. I interviewed at this program and was really, really pleased with the strength of the faculty, the happiness of the residents, and the quality of the program. So happy to be here!
Post-Residency Plan: Possible fellowship in obstetrics, and likely will end up working in a rural community near Austin serving the Hispanic/Latino community. Down the road, I would love to be medical director of a community clinic that looks after the underserved.