Current Family Medicine Residents
Chief Residents in Family Medicine
William Nutting, M.D.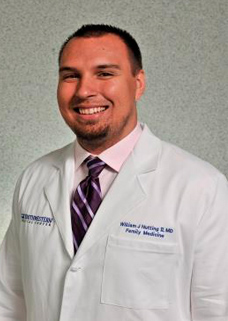 Hometown/Medical School: Edinburg, TX/University of Texas School of Medicine at San Antonio
About Me: I was born and raised in South Texas, graduating from Texas A&M University with a B.S. in biomedical science in 2008 and the University of North Texas Health Science Center at Fort Worth with a M.S. in medical sciences in 2009. Prior to starting medical school, I worked as an EMT-B. In my free time, you'll find me at the gym, dog park, Netflix binging, or exploring D/FW. I tend to spend my vacations near a beach or hiking trails.
Why UTSW Family Medicine? I chose UT Southwestern because I felt training at a strong academic institution and large community hospital, like Parkland, would best prepare me for my practice of medicine. The training and choice of electives at UTSW provides the opportunity to become a competent, well-rounded family physician. During the interview, the faculty, residents, and staff were extremely welcoming and enthusiastic about family medicine. Frankly, it just felt like home.
Marwa Saleh, M.D.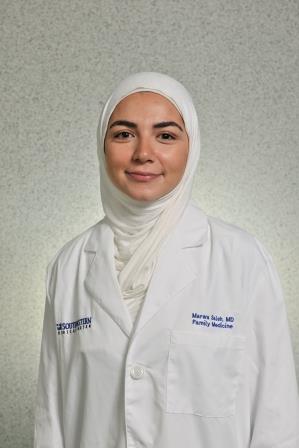 Hometown/Medical School: Hbouch, Lebanon/Weill Cornell Medical College at Qatar
About Me: I grew up in Lebanon, so between the busy city by the sea and easy small town in the mountains, I had the best of both lifestyles. After I graduated high school, I spent six years in an accelerated M.D. program in Qatar. Since entering the medical field, I have been passionate about population health and understanding social determinants of health as a keystone to comprehensive health care. Family medicine offered me the opportunity to further explore these aspects of medicine. When I'm not too busy with global health, community medicine, and now residency, I enjoy chocolate, yoga, and green mountains.
Why UTSW Family Medicine? UTSW offers a great curriculum in community medicine and allows you the independence of pursuing your interests while supporting new initiatives. Family medicine residents are very lucky to rotate in several different and unique places from Parkland Memorial Hospital to Children's Medical Center to Presbyterian. Dallas is a perfect, exciting place to live with great diversity and many neighborhoods that keep you intrigued.
Post-Residency Plan: I am still undecided, with family medicine as a starting point, there are many paths to choose from. I may continue on with fellowship, join a practice, set up my own practice, or dive back into the world of public health and emergencies.