Research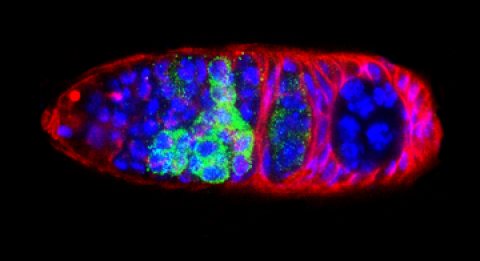 Researchers in the department cover a wide range of topics, including aging and pre-programmed death (apoptosis) of cells, signaling between and within cells, telomeres, neuromuscular function, cell movement, and wound healing. Here is each researcher, along with his or her main research focus/focuses.
John M. Abrams, Ph.D. (Stanford University)
Molecular physiology of programmed cell death; gene regulation, chromatin assembly and 3D genome organization
Lab website
Barry R. Botterman, Ph.D. (University of California, Los Angeles)
Neurophysiology of motor control; synaptic organization of spinal motoneurons; physiology of spinal cord injury
Po Chen, Ph.D. (University of Texas at Dallas)
Apoptosis
Richard Allen Finn, D.D.S. (University of Illinois at Chicago)
Nasal anatomy and respiratory problems; chemical and ablation of photo damages skin; obstructive sleep apnea outcome studies; Moderate sedation in ambulatory surgery
Beatriz M. A. Fontoura, Ph.D. (New York University)
Molecular mechanisms of Nucleocytoplasmic transport and their role in viral pathogenesis and immune response; role of nuclear transport factors in mitosis
Frederick Grinnell, Ph.D. (Tufts University)
Cell mechanics in 3D matrices, wound repair and tissue engineering
Lab website
Judith R. Head, Ph.D. (UT Southwestern)
Immunology of mammalian reproduction, especially concerning uterine function, placentation and decidualization
Lily Jun-shen Huang, Ph.D. (University of California, San Diego)
Mechanisms of regulation of hematopoiesis, hematopoietic stem cell development, and leukemogenesis; cytokine receptor signaling
Lab website
Gary A. Iwamoto, Ph.D. (University of California, Davis)
Remodeling of cardiorespiratory and locomotor control neurons of the central nervous system, Response and adaptation to exercise and hypodynamic environments
Qiu-Xing Jiang, Ph.D. (Yale University)
Structure and function of membrane proteins, especially ion channels, and cellular signaling complexes; Lipid-dependent gating of voltage-gated ion channels in cell membranes and its relation to human disease; importance of lipid-protein interaction for membrane protein function; new techniques for cryoEM imaging and data analysis
Helmut Krämer, Ph.D. (University of Cologne, Germany)
Genetics and cell biology of endocytic trafficking in Drosophila
Lab website
Wen-Hong Li, Ph.D. (University of California, San Diego)
Hormone secretion and paracrine/autocrine signaling in pancreatic islets; probe engineering; molecular imaging
Lab website
Lawrence Lum, Ph.D. (Weill Cornell Graduate School of Medical Sciences)
Mechanisms of signal transduction; signal integration; signaling in development and disease
Peter Michaely, Ph.D. (Duke University)
Hypercholesterolemia; LDL receptor; structural studies of amino acid repeats
Lab website
Saikat Mukhopadhyay, M.D., Ph.D. (Brandeis University)
Ciliary signaling pathways, functional proteomics in ciliary disease, and primary cilia in normal development and cancer
Lab website
John Phelan, Ph.D. (UT Southwestern)
Skeletal-muscular hypertrophy
Katherine Phelps, Ph.D. (University of Colorado at Boulder)
Confocal microscopy; Multiphoton microscopy; FRET; TIRF; Deconvolution
Lab website
Janine Prange-Kiel, Ph.D. (Eberhard Karls University, Germany)
Steroids in the brain; regulation of hippocampal estradiol synthesis; effects of estradiol and synaptic plasticity
Stuart E. Ravnik, Ph.D.
Control of meiosis: Imitation and cell division; development of germ cells in the male and female; early embryonic development and gonadogenesis.
Rodney J. "Rod" Rohrich, M.D., FACS (Baylor College of Medicine)
Anatomic studies of face and nose; outcome studies in safety of cosmetic surgery, nutritional supplements in wound healing; anti-aging; new technology evaluation (lasers and surgical products).
Sandra L. Schmid, Ph.D. (Stanford University)
Molecular mechanisms governing clathrin-mediated endocytosis
Lab website
Joachim Seemann, Ph.D. (Max Planck Institute For Biophysical Chemistry, Germany)
Biogenesis of the Golgi apparatus; membrane traffic; mitosis
Lab website
Jerry W. Shay, Ph.D. (University of Kansas)
Molecular mechanisms of human cellular aging and cancer; the role of telomeres and telomerase in cancer
Lab website
William J. Snell, Ph.D. (Yale University)
Cellular and molecular mechanisms of cilium-generated signaling; molecular mechanisms of cell-cell fusion
Lab website
Gaylord Throckmorton, Ph.D. (University of Chicago)
Physiological and biomechanical adaptations of the human masticatory system to trauma, diseases, and surgical treatment
Qian Wang, PhD
Cilium-generated signal transduction and gamma-secretase functions
Michael White, Ph.D. (University of North Carolina at Chapel Hill)
Signal transduction; cancer cell biology; cancer intervention target discovery and development
Lab website

Alisa Winkler, Ph.D. (Southern Methodist University)
Systematics and functional morphology of fossil mammals
Woodring Wright, M.D., Ph.D. (Stanford University)
The role of telomere biology in aging and cancer, molecular mechanism of telomere replication and telomerase action
Lab website
Christoph Wuelfing, Ph.D. (Max-Planck Institute of Biochemistry)
Regulation of cytoskeletal rearrangements in T lymphocyte activation