You Are In: Now What?
Congratulations! You have just been accepted into UT Southwestern Medical School. Now what? Here is some advice from our students about how you might want to spend the months leading up to the start of classes in the fall, as well as some information that might be useful to you as you are preparing to start medical school.
We have organized things chronologically where possible and we have provided links to other sources of information that might be useful. Students are admitted throughout the year, so this information will allow all to prepare for the beginning of the year.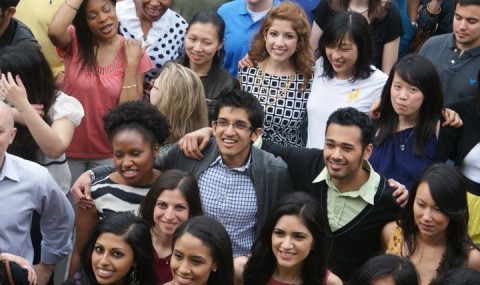 A few important dates:
MS0 Weekend: February 26–28, 2015
School Starts: August 11, 2015
Orientation Program: August 11–13, 2015
PRE+OP (weekend retreat): August 14–15, 2015
White Coat Ceremony: October 31, 2015
November–January
Think About Summer Plans
Most students decide to go have fun (backpack Europe, beat some video games, work on the golf game, etc.) the summer before medical school begins.

Don't worry; you can do summer properly and still follow the school's schedule without difficulty. Some students participate in summer programs and their schedule may vary. Summer Enrichment Program (SEP), student research, Medical Scientist Training Program (MSTP)
RSVP to MS0 Day, Find Accommodations
MS0 Weekend is a weekend held in the spring of each year – when we invite the newly accepted medical students to campus for a second look. Student activities on MS0 Weekend vary but usually include information about campus life, meetings in small groups, and bus tours through neighborhoods to explore where students might live.
MS0 Weekend is highly recommended for those with reasonable access to Dallas. The weekend provides a great chance to meet new classmates, see the multicultural show, and have a great night in the area before medical school begins. Be sure you stay with a student if possible so you can pester the unfortunate host with questions – it's OK, everyone does it. Please watch for a letter or email for further directions.
February
Attend MS0 Weekend
Join us for MS0 Weekend. If you were unable to attend MS0 weekend, view the handouts that were distributed (contacts, housing info, immunizations, computers, research, combined degrees, etc. – lots of great information!).
Learn About the Laptop You'll Need
Before requesting that new laptop as your 'I'm going to medical school!' gift, read the Laptop Requirements FAQ (this is important!).
Begin Apartment Hunting
If you are considering living at Med Park, be sure to sign up as early as possible for the best chance at getting the unit desired. It includes details about where students live and what students say about where they live.
UT Southwestern cannot endorse any particular apartment. Most apartment complexes don't know more than 60 days in advance what will be available around your move-in date. So if you're moving in at the beginning of August, having an apartment down by the end of June is a good idea.
Apply for Student Aid at FAFSA
This can only help. There is no downside. The earlier you apply, the better chance you have.
The Office of Financial Aid is open 8 a.m. to 5 p.m. Monday through Friday. The Office is located in M2.200 (adjacent to the Bryan Williams, M.D. Student Center), and can be contacted at:
Office of Student Financial Aid
UT Southwestern Medical Center
5323 Harry Hines Blvd.
Dallas, TX 75390-9064
Phone: 214-648-3611
Fax: 214-648-3289
April–May
Receive and Act on Student Aid Offers
Assuming you filled in your FAFSA application, notifications will be sent via email.
Choose UT Southwestern and Look Forward to Great Years
If you received an offer of acceptance from more than one school, you must choose the specific school at which you prefer to enroll. Politely withdraw your application from all other schools from which acceptance offers have been received.
Considering Deferring Your Admission?
Accepted applicants interested in seeking a deferral should download the Medical School deferral application and submit it as soon as possible to the Admissions Office. More information
Set Up and Verify Your Laptop
Be sure to read the Laptop Requirements FAQ before purchasing a new, or upgrading your current laptop. All incoming students are required to have a laptop and there are specific requirements. July 15 is the submission deadline for the Laptop Verification Form to be sure your laptop meets all necessary specifications.
OR: If you will be purchasing your laptop from the University Store, it will take up to two weeks to place and complete your order.
Submit Final College/University Transcripts
Submit ALL final official transcripts (including any degrees conferred) to the Admissions Office at:
Office of Admissions
UT Southwestern Medical Center
5323 Harry Hines Blvd
Dallas, TX 75390-9162
Don't skip the school with just one semester of Macramé (or whatever that summer elective was).
Graduating in June? Hold off having that transcript sent until your degree is posted.
Update Your Contact Information
The school will send emails about tasks that need to be completed before enrolling. Keep your mailing address updated, as important documents do arrive via USPS regarding tuition, financial aid, payments, and other matters. You can update your contact information on the UT Southwestern Student Self-Service page.
Continue Apartment Hunting
Continue looking for housing, roommates, etc.
Complete Immunization Requirements
Immunizations. No joke. Get these done before showing up on the first day. Some immunizations include a series that can take weeks to complete. You cannot start school without a complete immunization record. Meningitis must be documented at least 10 days before the start of school. Those students 22 years of age or older are exempt from this requirement. Click links for the immunization requirements and the immunization history form. Please call Student Health Services if you have any questions regarding the required immunizations.
Student Health Services is open 8 a.m. to 5 p.m. Monday through Friday. Student Health Services is located on the eighth floor (U8.409) of the James W. Aston Ambulatory Care Center on South Campus, and can be contacted at:
UT Southwestern Medical Center
Student Health Services
Dallas, TX 75390-8861
Phone: 214-645-8690
Fax: 214-645-8676
Get Your Student ID Card
If you are planning to be on campus between now and the beginning of school, and if you would like to use the Bryan Williams, M.D. Student Center, we are happy to make you an ID card. Just stop by the Registrar's Office at your convenience.
The Registrar's Office is open 8 a.m. to 5 p.m. Monday through Friday. The Office is located in M2.200 (adjacent to the Bryan Williams, M.D. Student Center), and can be contacted at:
Office of the Registrar
UT Southwestern Medical Center
5323 Harry Hines Blvd.
Dallas, TX 75390-9096
Phone: 214-648-3606
Fax: 214-648-3289
June
Complete your Federal Direct Loan Master Promissory Note
To receive your Federal Direct Stafford Loan(s), make sure you sign the document titled "Master Promissory Note" (MPN). Funds will not be disbursed in August if the MPN is not completed. A few students each year accidentally skip this step and are presented with an unhappily large tuition bill right before classes begin. Try not to be one of those.
Use your UT Southwestern Email Address
We will send you correspondence when all email communication will go exclusively to your assigned UT Southwestern email address. Click here to access your UT Southwestern email account via the web.
Register for the Pre-Registration Education Orientation (Pre-Op) Weekend Retreat
Pre-Op's vision/mission is to develop and foster an orientation program that builds on the UT Southwestern foundations for developing a student community environment that enhances learning and social interaction. You will receive an email with instructions on how to register for the Pre-Op weekend retreat.
Visit "Careers in Medicine" Website
What do you want to be when you grow up? Yes, we know…a doctor, but what kind? The summer is a great time to do some exploration of what medical specialty might be right for you by learning more about yourself. The Association of American Medical Colleges has some great resources to do just that.
Complete Matriculation Survey Questionnaire (MSQ)
Why did you choose to be a physician? Where do you plan to practice? Where do you see yourself in 5-10 years? The AAMC's Matriculating Student Questionnaire is interested in all of these answers, and plans to compare them to your thoughts upon graduation. You will receive an individualized web link from the AAMC to complete the survey. We would really appreciate it if you would provide us this useful information.
July
Complete Your Background Check and Drug Screening
Background checks are required for all medical students. You will receive an email in late June with instructions. The background check must be completed by August 1. We only accept background checks facilitated through our contracted company. A negative drug screen is required of all students ahead of clinical activities. All incoming students will be provided information prior to matriculation of details and testing sites in the U.S.
Complete Your Laptop Purchase/Verification
The time is now! July 15 is the submission deadline for the Laptop Verification Form to be sure your laptop meets all necessary specifications.
OR: If you will be purchasing your laptop from the University Store, it will take up to two weeks to place and complete your order (so do not delay).
Not sure what to do or purchase? Read the Laptop Requirements FAQ.
Get Health Insurance Coverage
Health insurance coverage is a requirement that you must have throughout the time you are enrolled. Many students are covered by their parents' plan during enrollment. If you need to purchase health insurance for yourself, there are options available to you as a medical student. Learn more about Student Health Insurance.
Complete the Forms That Are Sent to You
You will receive information regarding tuition/fee payments. Tuition/fee payments must be paid before the first day of classes. Please visit your Student Self Service to review your "To Do List" for any final items to complete.
Purchasing Textbooks and Medical Instruments
You will need to purchase a set of medical instruments, as you begin to learn the physical exam skills needed to become a physician. We recommend that you do not purchase these prior to your first day of classes, but you are welcome to peruse what is available and learn more about your choices.
August
Attend Pre-Op Weekend Retreat
You will spend several fun and information-filled days immediately before school with your future classmates. Second-year medical students serve as camp counselors. Some UT Southwestern administrators, faculty, and mentors will be on hand at a retreat facility on the Brazos River.
Attend First Day of Classes
School starts August 11, 2015 ... We look forward to your arrival in the upcoming term!