Our Future
UT Southwestern Medical Center's clinical training facilities have always given our students a distinct advantage and made them highly sought after when it's time for residency training. Plans are now underway to make our facilities even better.
New University Hospital
As part of our commitment to excellent patient care, research, and medical education, we recently celebrated the opening of the 1.3 million-square-foot William P. Clements Jr. University Hospital on the UT Southwestern campus.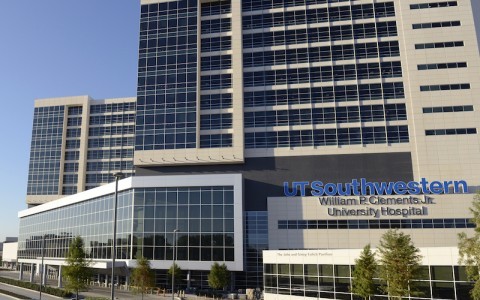 The 12-floor, 460-bed facility is an essential component of UT Southwestern's commitment to become one of the top 10 comprehensive academic medical centers in the nation.
Designers have incorporated the latest medical technologies, from robotics in the operating rooms to imaging and tracking systems that support safety, quality assessment, and cost-efficiency goals.
Each floor includes:
"Rounding rooms" where health care teams can discuss patient care privately.
Family conference rooms for private consultations with physicians.
Dedicated conference rooms and teaching spaces.
Dedicated research space for clinical and translational research activities.
On-call rooms and facilities for physicians.
A New Parkland
The new, $1.3 billion Parkland Memorial Hospital, located across the street from the current facility, features:
An 862 adult-bed full service acute care hospital (1.7 million square feet)
An outpatient center (380,000 square feet)
As Dallas County's only public hospital, Parkland already receives a large volume of patients – more than 1 million visits each year. With the county population expected to double by 2025, UT Southwestern Medical School students will continue to receive numerous opportunities to observe and treat a wide variety of illnesses and conditions.