The MoDTS Student Profile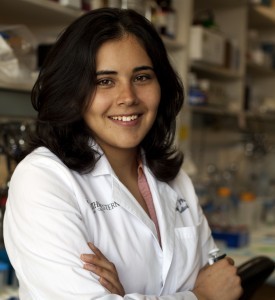 Cyndi R. Morales
Integrative Biology Graduate Program
Mechanisms of Disease Training Track, Internal Medicine-Cardiology
Mentor: Joseph A. Hill, M.D., Ph.D.
Originally from Mexico City, Cyndi Morales became captivated with science in high school. She earned a B.S. in biochemistry and molecular biology from Pennsylvania State University. As part of a cooperative education program, Cyndi participated as an intern in the Biochemistry Department of GlaxoSmithKline in King of Prussia, Pennsylvania.
Cyndi's research focuses on the role of reversible protein acetylation in the governance of proteostasis within cardiomyocytes. Specifically, she is focusing on stress-induced cardiomyocyte autophagy.
"In our experimental model, we are using FDA-approved deacetylase inhibitors to evaluate the role of protein acetylation in the regulation of autophagic flux," Cyndi said. "Our ultimate goal is to unravel mechanisms whereby histone deacetylase inhibitors blunt pathological remodeling and thereby confer beneficial actions on the disease-stressed heart."
Cyndi appreciates the strong platform for basic science research and education in the Integrative Biology Program.
"The program provides a friendly environment with rewarding opportunities to learn about research from diverse fields, as well as being in contact with exceptional faculty members," she said. "As part of the Mechanisms of Disease Training Track, I have been exposed to multidisciplinary research that integrates clinical and basic science approaches. This integral approach will train me to embrace basic science with a translational approach."