Student Profile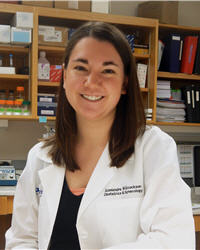 Alexandra Willcockson
Integrative Biology Graduate Program
Mentor: Mala Mahendroo, Ph.D.
Hometown: Yankton, South Dakota
Awards/Fellowships: 2015 Best Presentation Award: Integrative Biology/ Mechanism of Disease and Translational Sciences Poster Session 2014-2015, Center for Translational Medicine TL1 (Institutional Training Grant) Awardee, 2015-2016 Green Center for Reproductive Biology Sciences Fellowship Awardee
In elementary school, I always enjoyed science classes, and especially learning about space. It wasn't until high school and a very specific conversation I had with my dad that I realized I wanted to be a scientist. And it really was structured research that I wanted to do. Using the scientific method, working with a team, and working to solve a clinically relevant problem were my main needs in a career. As like most, "making a difference" and "helping people" were at the forefront of my mind.
Because I knew I was interested in clinically relevant research, the fact that UT Southwestern was a medical center was a huge draw. I appreciated the fact that I wouldn't be required to fulfill teaching assistant duties. After visiting the campus during interview weekend and recognizing a similar welcoming, collaborative spirit I had been shown my entire life, I knew I could find a graduate home here.
"Joining the Integrative Biology program affords students a perfect amount of flexibility in terms of elective course work to complete and labs to join."
My thesis project is to define the molecular mechanisms of infection-mediated preterm cervical ripening. In other words, I am working to identify how the cervix of a pregnant woman responds to infection and prematurely ripens, leading to a preterm delivery. If we can better understand these premature changes caused by infection, we can better detect and design therapies to prevent preterm birth.
I think it's the diversity in students, faculty, and research projects that brings much strength to the integrative biology program. The broad training in human body systems and diseases combined with classes outlining the current biological tools used by faculty throughout the university is an important foundation for our thesis work.