Integrative Biology Ph.D. Program
Integrative Biology Interview Dates:
January 25-27
February 8-10
February 15-17
Alternative Interview Dates (Integrative Biology faculty may or may not be available):
January 18-20
March 1-3
March 8-1
About the Integrative Biology Program
The Integrative Biology Graduate Program focuses on the molecular and cellular basis of integrated biological systems. Principles and techniques used to study multicellular biological preparations are applied to investigate hypotheses arising from knowledge of molecular and cellular biology. Cells and tissues are studied in their "social" context, with multicellular preparations including co-cultures of different cell types, isolated tissues, organ systems, or whole animals.
The Integrative Biology Graduate Program promotes cross-disciplinary research with the goal of training students for careers as independent investigators. Areas of research interest in the program include response and adaptation to physiological stresses (exercise, microgravity, and pregnancy) and to pathological stresses (hypertension, inflammatory and immune diseases, diabetes, sepsis, and cancer).
Students benefit from the strong tradition of interdisciplinary training at UT Southwestern Medical Center.
Specific areas of investigation in the Integrative Biology Graduate Program include:
Cell-cell signaling, including the basis of fertilization
Exocrine secretion
Renal tubular transport
Gene regulation in development and differentiation
Regulation of cardiovascular function and metabolism
Regulation of muscle contraction and protein turnover
Sensory regulation of behavior
Carbohydrate and lipid metabolism
Tumor biology
Students interested in joining the Integrative Biology Ph.D. program should apply to the interdisciplinary umbrella program within the Division of Basic Science. First-year students complete a core curriculum that includes a core course, three or four laboratory rotations, and training in the responsible conduct of research. Students who perform satisfactorily in the first semester core course are qualified to enter the Integrative Biology Graduate Program.
A Message from the Program Chair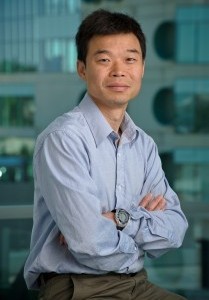 Yi Liu, Ph.D.
Professor, Physiology
Graduate School: Ph.D., Vanderbilt University, 1995
Postdoctoral Training: Dartmouth Medical School
Our program has a strong emphasis on physiological processes and human diseases, but our biggest strength is the diversity of research of our students, ranging from metabolism, development, neuroscience, behavior, and cancer to immunological and biophysical studies.