Student Profile: Jed Falkowski
Welcome to UT Southwestern Medical Center's website for our Doctoral Program in Clinical Psychology.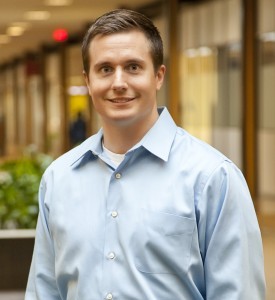 During my undergraduate coursework I studied psychology and sociology at the University of Tulsa while competing on the university's track and field team. I went on to obtain a Master's Degree in Psychology from West Texas A&M University, gaining experience as a research assistant through the Neurology Department and the F. Marie Hall Institute for Rural Community Health at Texas Tech University of Health Sciences Center.
My research interests focused on neuropsychological assessment, dementia syndromes, and the relationship between cardiovascular risk factors and cognition.
My decision to pursue a Ph.D. in clinical psychology at UT Southwestern was based on several factors, including my interest in the wide range of clinical training and research opportunities available to students in the Program. As a doctoral student, I have found that the unique placement of the Program within a major medical center fosters collaboration on research projects with experts across many different fields.
During my first three years in the doctoral program at UT Southwestern, I have worked as a research assistant for Myron Weiner, M.D., on projects through the UT Southwestern Alzheimer's Disease Center and The Cooper Institute. There I investigated topics such as the relationship between exercise and cognition, utility of cognitive screening instruments, and differentiation of dementia syndromes.
I am working on research with Munro Cullum, Ph.D., and my dissertation, chaired by Laura Lacritz, Ph.D., is investigating the cognitive effects of prolonged exposure to the cardiovascular risk factors that compose the metabolic syndrome.
My clinical training has included individual and group psychotherapy as well as psychological assessments with various patient populations and in forensic settings. For my fourth year, I am completing my internship at UT Southwestern's Neuropsychology Clinic.
I enjoy speaking about my experience in the program. If you have any questions about my training at UT Southwestern or would like additional information about the Program, please do not hesitate to contact us.
Sincerely,
Jed Falkowski
Co-Chief Resident
Clinical Psychology Doctoral Program, 4th year