Student Profile: Dailyn Martinez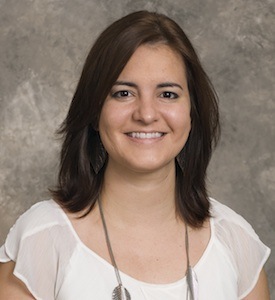 The path to clinical psychology was not a direct one for Dailyn Martinez, but one that developed from diverse experiences and interests throughout the years.
As an undergraduate at the University of Notre Dame, Dailyn studied political science and Spanish. Her love for Spanish literature, particularly narratives related to personal and collective identities, led her to join the accelerated track for a master's degree in Iberian and Latin American Studies at her alma mater. Dailyn went on to teach at high school and elementary schools, receiving her teaching certification along the way.
During her teaching career, Dailyn solidified her desire to pursue clinical psychology as a way to help children and adolescents with difficult life experiences weave positive narratives back into their lives.
Dailyn said she was initially attracted to UT Southwestern Medical Center's Doctoral Program in Clinical Psychology because of the wide range of training opportunities, the chance to work with culturally diverse populations, including Spanish-speaking families, the dynamic psychology faculty, and the program's academic rigor.
Before being accepted into the Program, Dailyn worked as a study coordinator at Children's Medical Center Dallas. The study examined children's and adolescents' adherence to oral medication during the maintenance phase of leukemia and lymphoma treatments. During that time, she also started a project with supervisor and mentor Crista Donewar, Ph.D., Assistant Professor of Psychiatry, looking at patient characteristics, sleep, and psychosocial functioning in a pediatric pain management clinic.
Dailyn returned to Children's as the Cultural Diversity Scholar during her first year in the graduate program, enabling her to work more closely with underserved medical populations.
As a fourth-year doctoral student, Dailyn said she's excited to be returning to Children's to complete her clinical internship as well as her research, which will involve examining the impact of psychological variables on health status over time in adolescents with inflammatory bowel disease.