Student Profile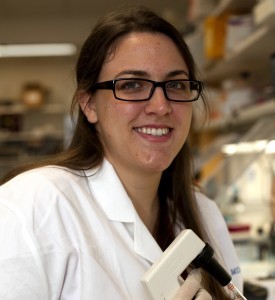 Aileen Klein
Cell Regulation
Graduate Program
Mentor: Melanie Cobb, Ph.D.
A native of central Florida, Aileen Klein was first inspired to pursue research by an exceptionally devoted high school biology teacher, who encouraged participation at a summer research program at the University of Florida. Aileen went on to pursue a BA in Cell Biology from Cornell University.
Her current research addresses the role that environment-sensing kinase signaling cascades play in the epigenetic regulation of gene expression, particularly as they relate to oncogenesis.
"What struck me immediately about UT Southwestern was the institution-wide commitment to collaboration," said Aileen. "The degree of research here is absolutely top-notch, and I have repeatedly observed a communal willingness to pool ideas and resources for the benefit of performing this type of superior research. I count myself very lucky to be a member of this unique environment, where I can learn and grow as a scientist against such a supportive backdrop."