McKnight Prizes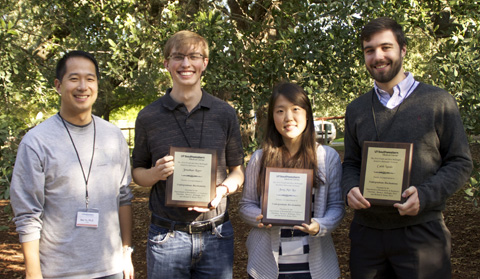 2014 McKnight Prize in Undergraduate Biochemistry Finalists
Benjamin Tu, Ph.D., Jonathan Karr, Jung Min Lee (winner), Caleb Natale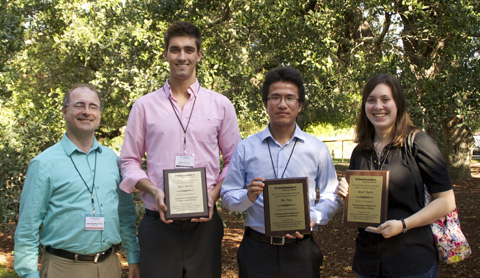 2014 McKnight Prize in Undergraduate Molecular Biophysics Finalists
Jose Rizo-Rey, Ph.D., Ryan Henrici, Kun Leng (winner), and Abby Knecht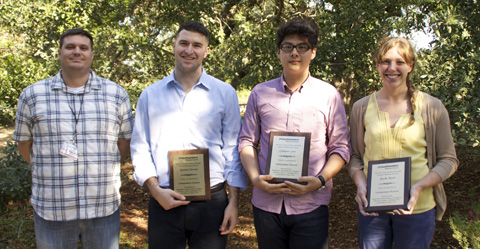 2014 McKnight Prize in Undergraduate Chemistry Finalists

John MacMillan, Ph.D.
, Jonathan Varelas, Chengtian Shen (winner), Janelle Kirsch
---
The UT Southwestern Department of Biochemistry holds an annual contest for undergraduate researchers from across the country. Prizes are awarded in three areas: chemistry, biophysics or quantitative biology, and biological chemistry. The McKnight Prize was instituted by Steven McKnight, Ph.D., Chair of UT Southwestern's Department of Biochemistry, in honor of his parents, "because they have been the best parents imaginable," he said.
Several finalists were invited to travel to the Biochemistry Department's annual retreat Nov. 7-9 to give poster presentations on their work. Winners were chosen both for the significance of their work and the quality of their presentation.
This competition is open to undergraduates in their senior year who have conducted outstanding research in chemistry, biological chemistry, or biophysics or quantitative biology.
First prizes of $2,000 were awarded in each discipline. Finalists received a $500 prize.
How to Apply
The McKnight Prize will not be awarded in 2015. Please check back summer of 2016 for the next opportunity to apply.