In the News
Featuring the most current honors, awards, and publications featuring or authored by UT Southwestern's Graduate School of Biomedical Sciences and its faculty, graduate students, postdoctoral students, and alumni.
New Dean Announced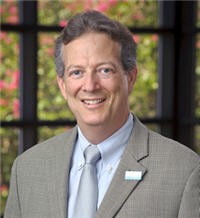 Andrew Zinn, M.D., Ph.D., Professor of Internal Medicine and the Eugene McDermott Center for Human Growth and Development, became the new Dean of the Graduate School of Biomedical Sciences on August 1, 2013.
U.S. News and World Report: 
2011 Best Graduate Schools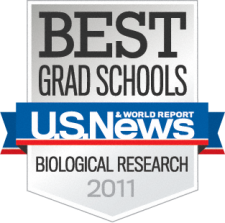 UT Southwestern Graduate School of Biomedical Sciences:

#20 in Biological Sciences
Specialty Rankings:
# 9 in Immunology
#10 in Genetics and Development/Cancer Biology
#11 in Biological Chemistry/Molecular Biophysics
Science Watch 2010
UT Southwestern Medical Center
ranks #1
in scientific impact in Clinical Medicine and Biology/Biochemistry, according to
Science Watch
. UTSW is also ranked #2 in Neuroscience and Behavior and #3 in Molecular Biology and Genetics.
Faculty in the News
Dec. 11, 2013 - Two UT Southwestern scientists honored as rising stars in Texas research
Dr. Lora Hooper, associate professor of immunology and microbiology, and Dr. Youxing Jiang, professor of physiology, will be honored at a banquet at the Westin Galleria in Dallas on Jan. 17 in conjunction with TAMEST's 10th annual conference. Both are accomplished Howard Hughes Medical Institute investigators, and Dr. Hooper also has an appointment in UT Southwestern's Cancer Immunobiology Center.
Oct. 7, 2013 - Dr. Thomas Südhof, now at Stanford University School of Medicine, won the 2013 Nobel Prize in Physiology or Medicine for two decades of work performed at UT Southwestern.
Sept. 18, 2013 - In a recent issue of Beth Levine, M.D., Professor of Internal Medicine and member of the Cancer Biology and Molecular Microbiology graduate programs, and colleagues reported the finding that epidermal growth factor receptor or EGRFR turns off autophagy by binding to Beclin 1.
Deepak Nijhawan, M.D., Ph.D., Assistant Professor of Internal Medicine and Biochemistry and member of the Biological Chemistry graduate program, is one of two UT Southwestern faculty members to receive awards supporting early career physician scientists from the Damon Runyon Cancer Research Foundation.
July 23, 2013 - Ralph Mason, Ph.D., Professor of Radiology and member of the Biomedical Engineering and Cancer Biology graduate programs, along with colleagues at UT Southwestern and the German Cancer Research Center in Heidelberg, Germany, have shown that in combination with radiation therapy, administration of an "oxygen challenge" delays tumor growth in animal models. The findings are published in the June 27 online issue of Magnetic Resonance in Medicine.

Graduate Students in the News
Nov. 7, 2013 - Discovery could accelerate body's response to infection, autoimmune disorders
UT Southwestern Medical Center researchers report that disrupting the light-dark cycle of mice increased their susceptibility to inflammatory disease, indicating that the production of a key immune cell is controlled by the body's circadian clock. Co-authors include Neuroscience Chair and HHMI Investigator Dr. Joseph Takahashi, whose discovery of the mouse and human clock genes led to a description of a conserved circadian clock mechanism in animals. The lead author is Xiaofei Yu, an Immunology student in the UT Southwestern Graduate School of Biomedical Sciences.
July 29, 2013 - In a study published online in the Proceedings of the National Academy of Sciences, Anju Sreelatha (pictured, left), a Biological Chemistry and Mechanisms of Disease graduate student, and colleagues at UT Southwestern and the University of Georgia, report a novel channel-forming mechanism used by VopQ to quickly disrupt autophagy in host cells during infection by Vibrio parahaemolyticus bacteria. Kim Orth, Ph.D. (pictured, right), Professor of Molecular Biology and Biochemistry, is Ms. Sreelatha's mentor and senior author of the study.
Postdocs in the News
Nov.7, 2013 - Researchers discover a new driver of breast cancer
A team of researchers at UT Southwestern has found that as cholesterol is metabolized, a potent stimulant of breast cancer is created – one that fuels estrogen-receptor positive breast cancers, and that may also defeat a common treatment strategy for those cancers.