In the News
Featuring the most current honors, awards, and publications featuring or authored by UT Southwestern's Graduate School of Biomedical Sciences and its faculty, graduate students, postdoctoral students, and alumni.
New Dean Announced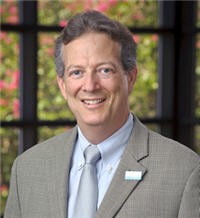 Andrew Zinn, M.D., Ph.D., Professor of Internal Medicine and the Eugene McDermott Center for Human Growth and Development, became the new Dean of the Graduate School of Biomedical Sciences on August 1, 2013.
U.S. News and World Report: 
2011 Best Graduate Schools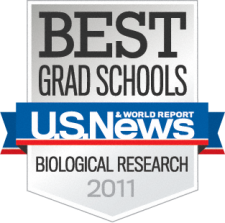 UT Southwestern Graduate School of Biomedical Sciences:

#20 in Biological Sciences
Specialty Rankings:
# 9 in Immunology
#10 in Genetics and Development/Cancer Biology
#11 in Biological Chemistry/Molecular Biophysics
Science Watch 2010
UT Southwestern Medical Center
ranks #1
in scientific impact in Clinical Medicine and Biology/Biochemistry, according to
Science Watch
. UTSW is also ranked #2 in Neuroscience and Behavior and #3 in Molecular Biology and Genetics.
Faculty in the News
Oct. 29, 2014 – Microbiologist awarded prestigious NIH research grant
Dr. John Schoggins, Assistant Professor of Microbiology at UT Southwestern Medical Center, has received a prestigious New Innovator Award from the National Institutes of Health (NIH) for research that aims to understand why bats can harbor numerous viruses without becoming sick.


Oct. 24, 2014 – Assistant professor chosen for $1.5 million Data-Driven Discovery award
Dr. Kimberly Reynolds, Assistant Professor in the Cecil H. and Ida Green Comprehensive Center for Molecular, Computational, and Systems Biology and in the Department of Biophysics at UT Southwestern Medical Center, has been named one of 14 Moore Investigators in Data-Driven Discovery.
Oct. 23, 2014 – Scientists discover new clues to how weight loss is regulated
A hormone seen as a popular target to develop weight-loss drugs works by directly targeting the brain and triggering previously unknown activity in the nervous system, UT Southwestern Medical Center obesity researchers have found.
Oct. 20, 2014 – Neuroscience Chair Dr. Joseph Takahashi elected to National Academies' Institute of Medicine
Dr. Takahashi – known for landmark discoveries in the field of circadian (daily) rhythm – was among 70 new national members and 10 foreign associates announced today by the organization, which addresses national health issues. With his election, 19 current UT Southwestern faculty members have been inducted into the institute.
Sept. 4, 2014 – Scientists identify rare stem cells in testis that hold potential for infertility treatments
Rare stem cells in testis that produce a biomarker protein called PAX7 help give rise to new sperm cells — and may hold a key to restoring fertility, research by scientists at UT Southwestern Medical Center suggests.
Graduate Students in the News
Nov. 7, 2013 – Discovery could accelerate body's response to infection, autoimmune disorders
UT Southwestern Medical Center researchers report that disrupting the light-dark cycle of mice increased their susceptibility to inflammatory disease, indicating that the production of a key immune cell is controlled by the body's circadian clock. Co-authors include Neuroscience Chair and HHMI Investigator Dr. Joseph Takahashi, whose discovery of the mouse and human clock genes led to a description of a conserved circadian clock mechanism in animals. The lead author is Xiaofei Yu, an Immunology student in the UT Southwestern Graduate School of Biomedical Sciences.
July 29, 2013 – In a study published online in the Proceedings of the National Academy of Sciences, Anju Sreelatha (pictured, left), a Biological Chemistry and Mechanisms of Disease graduate student, and colleagues at UT Southwestern and the University of Georgia, report a novel channel-forming mechanism used by VopQ to quickly disrupt autophagy in host cells during infection by Vibrio parahaemolyticus bacteria. Kim Orth, Ph.D. (pictured, right), Professor of Molecular Biology and Biochemistry, is Ms. Sreelatha's mentor and senior author of the study.
Postdocs in the News
March 13, 2014 – Researchers generate new neurons in brains, Post-heart attack biological events provide cardioprotectionspinal cords of living adult mammals
Dr. Joseph A. Hill, (left) Chief of Cardiology and senior author of the study, and Dr. Zhao Wang, a postdoctoral research fellow and the study's first author.
March 9, 2014 – Stem cell study opens door to undiscovered world of biology
Dr. Robert A.J. Signer, (left) a postdoctoral research fellow and the study's first author, and Dr. Sean Morrison, Director of the Children's Research Institute and senior author of the study.